Giving The Gift of Jewellery
---
With only three weeks till the most wonderful day of the year is upon us, it's all about making the final preparations for the festive season. Braving the supermarkets to pick up the sweets and the trimmings and climbing up the loft to fetch the decorations down. Driving to the local garden centre to find the perfect tree and wreath and downloading all the Christmas playlists to your Spotify so you can have a good ol' festive sing-along whilst you wrap the presents.
Everyone's happy, the air is cold but the atmosphere is warm. Shopping centres are busy yet festive and everywhere is just that little bit more magical. You just can't help but give yourself away to the Christmas spirit, cuddling up on a Sunday night to watch a family festive classic, trying not to break into the Christmas chocolate. That's how it should be; not running around last minute panicking to find gifts.
Which is why today, I'm sharing with you a beautiful piece of jewellery from a well-known, trusted brand that will be make the perfect present for your mum, sister, aunt or bestie this year. Giving a present of jewellery is a wonderfully classic choice for a reason. It's personal and sentimental. It can be seen every day or brought out on those truly special occasions. I know for myself, I never forget the time, place and sender when I've received a piece of jewellery. Every time I fasten the clasp, or gaze into my jewellery box, I'm reminded of the exact time I received such a beautiful gift.
If you're still searching for the one special gift this year, this may just be the one. So without further ado, let me introduce you to Orelia.
The Brand
---
You've probably seen Orelia around, they're stocked on ASOS and their products are in several stores including Topshop and Harrods. Not only that, they've become pretty well-known in the Instagram and blogging world for their beautiful, dainty jewellery that sits perfectly inbetween high-street and designer.
The quality of their pieces is impeccable, I've spent many a day gazing at their stand in my local Brighton Topshop, choosing which piece to take home next and have got myself a little collection, a heart necklace very similar to the one above and also a wishbone necklace. Both are increadibly beautiful and compliment any outfit with ease.
As for price, Orelia has got it down quite perfectly. Pieces that are just stunning quality but also affordable. The products come beautifully packaged with Orelia's luxury touch, making the jewellery such a perfect option for a sentimental Christmas present that's going to be loved for many years to come.
The Jewellery
---
When the lovely team at Orelia asked me if I wanted to pick out a gift for someone special this year, I couldn't help but jump at the chance. Being such a 'fan' of the brand already, I knew I wanted to share them with someone special, my mum.
After much choice, I picked out the Tiny Gold Open Heart Pendant Necklace from the Fine range. The piece is so delicate and dainty, perfect for my mum who's personal preference is more simple jewellery. It has a wonderful luxury feel, and the 18ct gold plating just adds to this, making it the perfect gift.
Sticking with the simplistic feel, I just knew I had to pick a heart, the perfect Christmas present. Representing love, I knew deep down my mum would love this, it's so beautiful, matches her preferences and will suit her to a tee.
What's lovely is that Orelia provide care instructions on their website to give your jewellery the longevity and shine it deserves and the fact they have a large handful of stockists means you can go and see the jewellery in person, though delivery is increadibly easy and quick.
Of course, knowing this would be featured on my blog, my mum does know I'll be gifting this her for Christmas and I can't wait for her to start wearing it; it's going to look beautiful and if she so wishes, she can layer it up with other necklaces for more of a statement look; it's just so delicate, you can do that with ease.
You can shop the fine range here for the perfect gift this Christmas.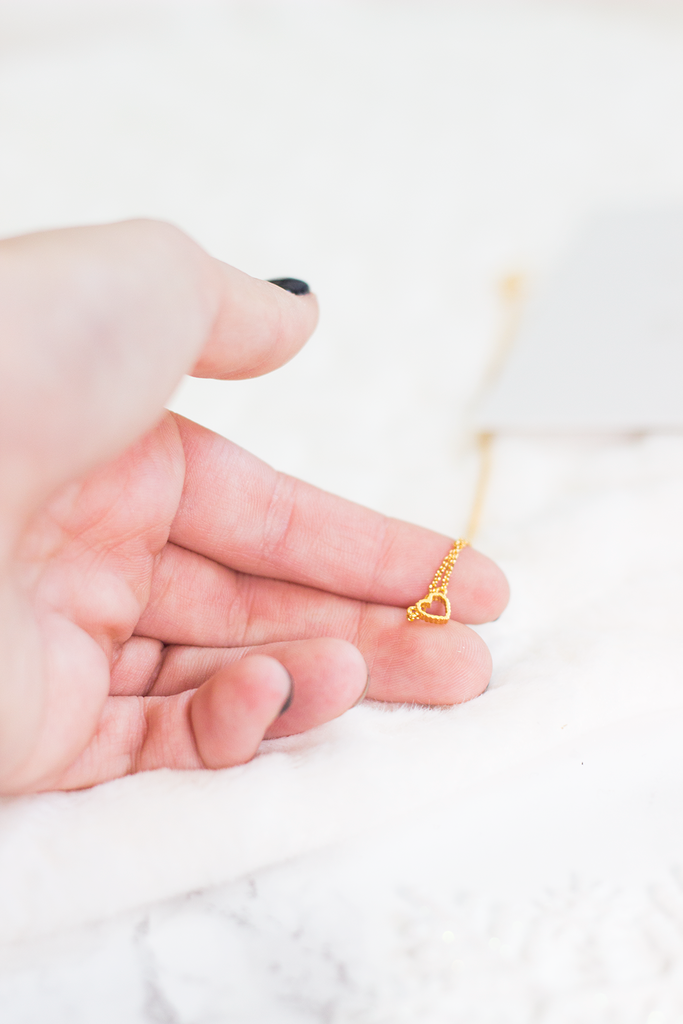 Will you be giving the gift of jewellery this year? And have you ever purchased a beautiful piece from Orelia before?
Shop The Post
---
Orelia Tiny Gold Open Heart Pendant Necklace
Follow SimplyAbbi
---
Thank you for reading!