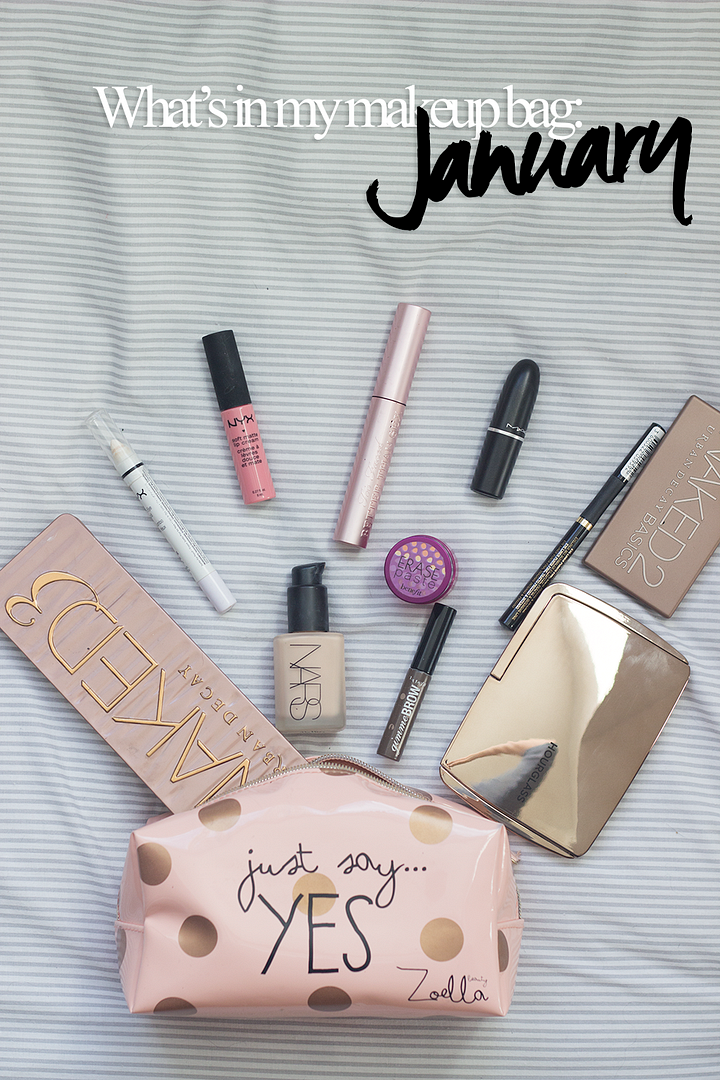 Get excited. An all new exciting series is starting over here on SimplyAbbi. I'm going to be posting the contains of my makeup bag. Once a month, every month. You see, the thing is, I have quite a lot of makeup and not surprisingly, I don't use all of it. There are many a purchase stuck somewhere in a draw gathering dust and feeling very unloved. In a bid to shop my stash, as they call it, every month I will be switching up the contents of my makeup bag, to make way for other products and to finally see what I do actually like and not just 'I'm not sure of this one purely because I only used it once…'
A simple concept I know, but I'm looking forward to scrolling back through the months to see what products really stood out and those I used only one month and never picked back up again. It can only be beneficial, right? It will also be interesting to see how many makeup bags I go through over the year…
---
Of course, kicking the party off with what I wore in January. Brand new year, new beginnings, new starts, all that malarky. Without further ado, let's rummage through my rather pink (and rather dirty), Zoella 'Just Say Yes' bag.
Foundation
Throughout the whole of January, there was literally only this one foundation that I have loved and loved and loved. NARS Sheer Matte was my favourite foundation of all of 2015 so it's no surprise it's continued into 2016. My only worry is that I'm close to it running out and dropping thirty odd quid onto a foundation isn't at the top of my priorities right now *emoji crying face*. This is just lovely, medium coverage, looks flattering on the skin, easy to blend, isn't cakey and is just a brilliant all-round. Infant, I'm genuinely going to struggle to let this one go considering I haven't found another foundation that lasts just as long as this one does. It's true love, honestly.
Concealer
This month I seemed to have gone back to an oldie but a goodie nonetheless. This month I suffered a particular bad breakout (thaaaaanks skin) and my Maybelline Eye Eraser just wouldn't of cut it, sadly. Benefits Erase Paste is a thick, but creamy, concealer that covers even the angriest of spots. My only issue is that is ever so slightly cakey and ever so slightly transferable, but a nice dusting of powder helps with that. For a high coverage concealer (a little goes a long way here), it's perfect and does the trick nicely. It's been my spotty saviour this month!
Brows
I've spent the past month (or two) mercilessly trying to scrap out the last of this product out of this tube, it's actually ridiculous. It's dying for a re-purchase but you know, skint student problems. I was blessed with wonderfully sparse brows, so Benefits Gimme Brow is a complete and utter godsend. Just a little bit of this product and I have nicely filled in brow that looks thick but not unnatural. I love this and I'm a very sad Abbi now this has finally bitten the dust. Just how are my eyebrows going to cope?! How am I going to cope?! For powder I'm still using (and loving) my Urban Decay Naked Basics 2 powder in Cover. The perfect match.
Eyes
The Urban Decay Naked 3 has been the palette of my choice this month. I'm just really digging matte, mauve eyes at the moment. I'm just all for it, easy, cute and I can't say I miss the shimmer actually. I've been using both Limit all over the lid with Nooner in the crease and of course, Strange in the inner corner. For a base I've been returning to my trusty NYX Jumbo Eye Pencil in Milk. A bright white shade that effortlessly evens out my skin tone and shadow sticks to it like glue. Trust me. Eyeliner is of course L'Oreal Superliner (will I ever find anything better?) and mascara is my trusty Too Faced Better Than Sex Mascara that genuinely wows me every time I use it still.
Bronzer
When I received the Hourglass Ambient Lighting Edit Palette for Christmas I just knew it would take over my makeup bag. Funnily enough, I wasn't wrong. The bronzer is warm but not orange and adds the perfect amount of warmth and dimension I need in these Winter months. Very soft, very bendable and makes me very happy. My own issue? It's just a little bit too warm for my pale skin at the moment so it really stands out but I'm looking forward to Summer when I have a little bit of a tan to get more use out of this!
Blusher
Again, the blushers I've used non-stop this month are both from the Hourglass Palette, of course, alternating them daily, obviously. Two very beautiful shades that you only need a dusting off. Very natural, very healthy looking and just like their powder counterpart, catch the light in the most flattering and beautiful way. I just can't get enough of them.
Powder
Surprise surprise… I've been using all three powders this month and absolutely loving the effect. The powders are incredibly lightweight, soft and beautiful and I just can't get enough of them. In fact, it's going to be hard to not use this next month! For my full review and verdict of the Hourglass Ambient Lightening Edit, click here!
Abbi x