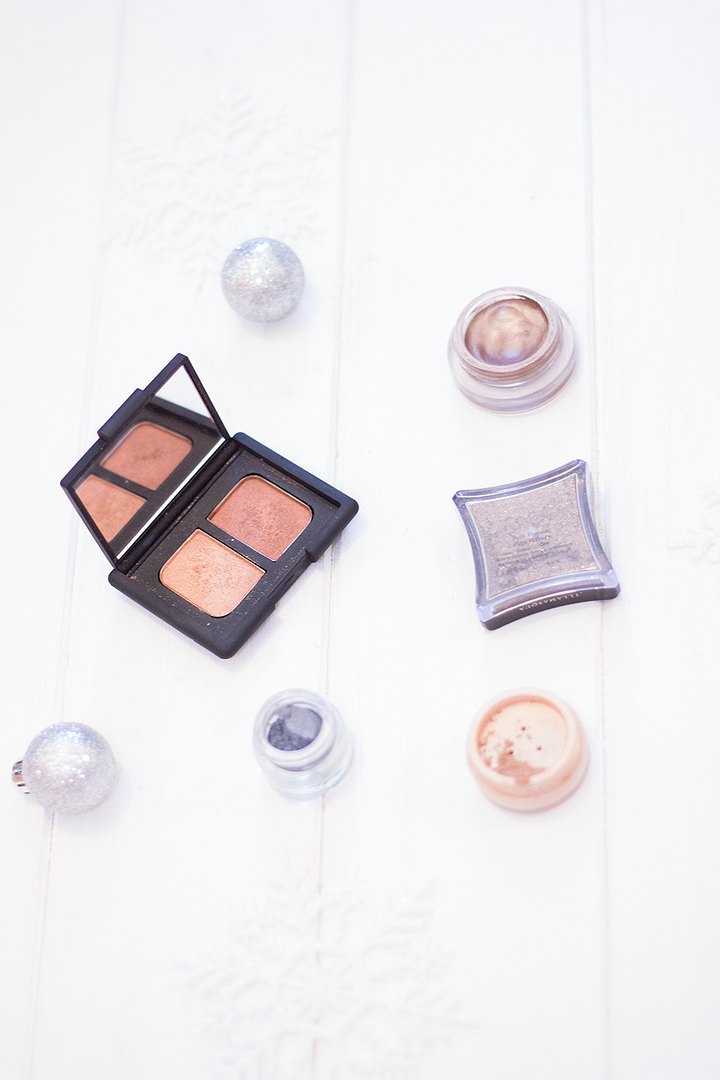 Following on from my
Top Three Blushers
post a few weeks ago, I thought I would share with you my top five eyeshadows (purely because I couldn't pick just three, an
almost
impossible task if you ask me). I love eyeshadows; glittery, matte, metallic, cream formulas… you name it, I love it. Carrying on with the topic of impossible tasks, it can be hard to know where to start with eyeshadows so let me help you out if you're new to the eyeshadow game or just looking to expand your collection.
NARS 'Isolde' Duo /
Probably one of the most gorgeous shadows in my collection,
Isolde
is such a firm blogger favourite that I whole heartily recommend to anyone and everyone. The gold and bronze shades makes this such a wearable duo all year round and this just doesn't fall short in well… anything. Intense pigmentation? Check. Beautiful colours? Check. Creamy and buttery to apply? Check. Easily blendable? Check. Incredible lasting power? Check. Basically, what I'm trying to say is; run to your nearest Space NK and grab this little duo, you won't regret it. I promise!
Illasmasqua 'Ore' /
Illasmasqua is really up there are one of my all time favourite makeup brands and one of the reasons for that is their incredible pure pigments.
Ore
is a rich bronze shade mixed with gold glitter i.e absolutely stunning. The pigmentation really is something to shout about, the metallic finish is exceptional and really captures the light and this is just an essential ingredient in the perfect smokey eye recipe. (Top Tip: This looks absolutely sensational over
On and On Bronze,
you can thank me later!)
Maybelline 'On and On Bronze' /
This post would not be complete without a cream shadow and there's only one worthy of a place in my top five;
On and On Bronze
is, without a doubt, one of my most used makeup products,
ever
! The 24h colour tattoos are
insanely
popular and anyone's makeup collection isn't complete without one; such an incredible base product which also manages to look effortlessly beautiful on it's own without creasing or transferring. Similar to
Ore,
this is a beautiful bronze colour with a hint of gold that will flatter most. The colour is beautiful but the main reason I love this is the lasting power, maybe not
quite
24 hours (I will most certainly let you know when I actually need my eyeshadow on that long…) but will take you through the day and night very, very easily. Super purse friendly, super brilliant, super beautiful. Do I need to give you more reasons why I love this?
Collection 'Dazzle Me' Perrie Eyeshadow /
 At just £2.99, this is one of most purse-friendly products you can buy out there when it comes to celebrity collections. If the
Illasmasqua Pure Pigments
are a little over your budget, this is a really impressive dupe! The
Dazzle Me
eyeshadow is a loose pigment packed with more then enough colour and shimmer to shake your stick at. The reason I'm in love with this is mainly the colour; it's somewhat a rare occasion to see a shimmery grey in the drugstore so not only is this a little special, the grey is beautiful! Again, you can easily wear this on it's own for a effortless smokey look, but on top of a cream shadow and teamed with a navy or black eyeshadow in the outer corner, you've got yourself a really stunning and intense smokey eye!
Lily Lola 'Sticky Toffee' /
I clearly have a 'thing' for loose pigments, don't I?! Again,
Sticky Toffee
 is a stunning pigment, packed with intense colour and gold shimmer that's going to last you all day and night. The powder is so soft and buttery, making applying and the all-important blending just so easy. The gold shimmer reflects the light rather wonderfully and is such a beautiful colour that matches a red lip just perfectly. In fact, this is perfect for the festive season and another purse-friendly option!
What's your all-time favourite eyeshadow?