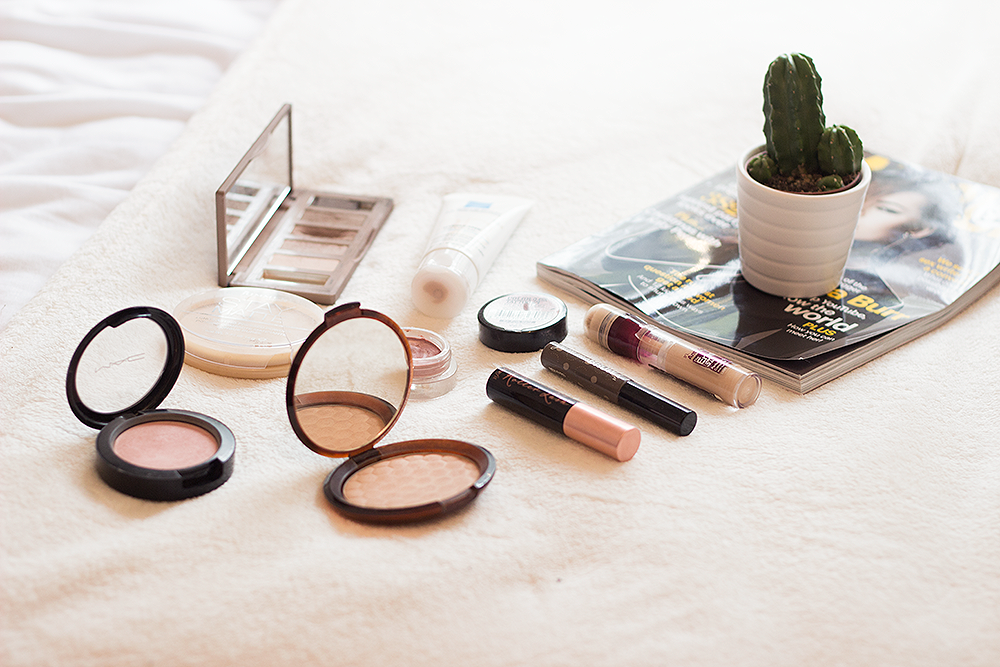 Day-to-day I like to keep my makeup to a minimum. I like to apply enough to notice it's there, but I simply do not have the time (or patience) in my morning to really go to town with my look. I like to do the basics, attempt to do something with my hair, take some more time to pick out what boots I'd like to wear that day and be out of the door, all by half 9.
The Base / 
My base makeup is probably where I put in the most effort; I'm a big fan of a flawless base and no matter my 'look' of the day, I like to try my best to achieve this. I know what you're thinking, is this even possible with a BB cream?! I'm here to tell you, yes, yes it is. My current favourite is the La Roche-Posay Hydreanne BB Cream which is wonderful and enriched with thermal spring water. This has quite a medium coverage for a BB cream but doesn't at all feel cakey or heavy. It also evens out my skintone really nicely and covers up those pesky red patches I get like a dream. With a wonderful dewy finish, this really gives me that flawless look I'm after.
The Concealer / 
Again, for day-to-day, I like to go for a lighter concealer because I always find that, no matter what, concealer always feels cakey under my eyes. The one I keep reaching for at the moment is the fabulous
Maybelline Age Rewind Concealer,
this has a really light consistency and coverage but it manages to keep things looking very natural but covered. I'm lucky in the sense I don't have the
worst
under-eye circles in the world so this does a nice job of covering up what is there. It's watery consistency means this doesn't feel at all cakey and once you've applied it and blended it in, you won't feel it at all.
The Brows / 
Ok, I lied, my eyebrows is where I most definitely put in the most effort. I can't go about my day without a on-point brow. I'm currently trying to grow them out and re-shape them but in the meantime, I definitely feel the need to define them, no matter the occasion.
Benefit's Gimme Brow
is one of my most essential makeup items ever, this just does amazing things! This gives the illusion my eyebrows are 10x thicker and fuller than they actually are and this massively cuts down the time it takes to powder and fill them in. Once my eyebrows are all Cara Delevingne style, I go in with 'Cover' from the
Naked Basics 2 palette
to fill in my front area which is a little bit sparse and could do with more defining. Easy peasy!
The Eyes / 
This is where my love for cream eyeshadows come in; their easiness makes them perfect for day-to-day. My favourite is obviously the Maybelline Eyestudio 24h Colour Tattoos and when I want something a bit more natural, I always go for the beautiful 'Pink Gold'! It's light enough to not be all in your face but heavy enough to be noticeable. I love it. I can't leave the house without mascara and I'm currently back in love with Benefit's Roller Lash, which does some incredible things to the length of my eyelashes. Someone remind me to get the full sized version soon?
The Bronzer / 
Even on the 'no makeup makeup' days, I still like to use a bronzer to ever so slightly contour and add dimension to the fact. I find that if I don't use some bronzer, my skin can look a little dull and all one-colour, so it's nice to add some dimension; I'm currently back in love with The Body Shop Honey Bronzer; it's so natural and light and doesn't have any orange undertone meaning it's just perfect for contouring, beginners and natural looks.

The Blusher /
MAC Cosmetics blushers are always my go-to; really soft powder that isn't chalky, intense pigmentation but manage to stay pretty natural and they seem to last a really good while too. My favourite for everyday has to be Easy Manner; a beautiful, matte dusty pink that can warm up any complexion. So very natural and so very pretty.

The Powder /
To set it all in to place nicely, I use the Rimmel Stay Matte which seems to be everybody's favourite! This nicely sets everything into place, doesn't add any colour and again, seems to last all day! I'm the world's biggest fan and I promise you, I don't buy anything else!
What's your go-to products for a natural, easy look?