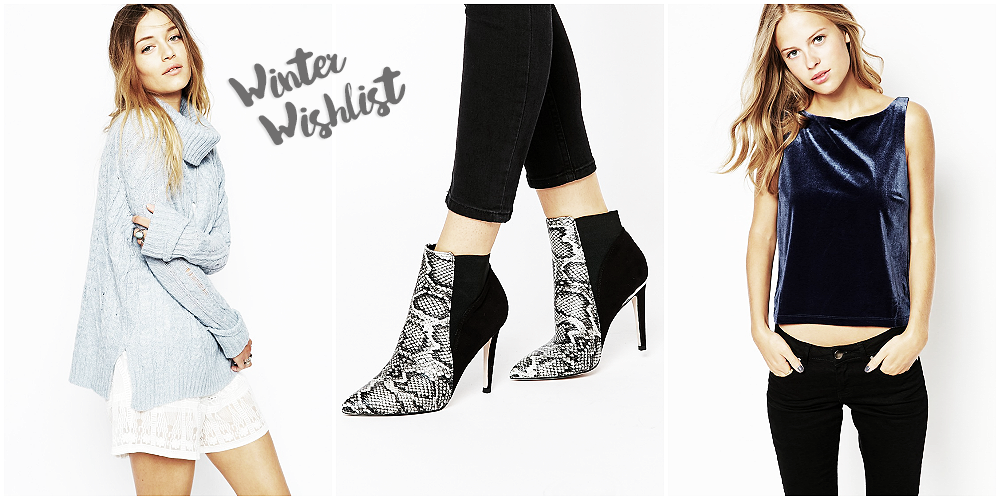 As I currently type this, I'm wrapped up in my fluffy throw, sipping on wonderfully hot tea and relaxing to the sound of the rain tapping on my window. We couldn't be more in Autumn if we tried. More and more I've been reaching for my coat and some days, I've even slung a scarf around my neck to keep it from the chill. My Winter wardrobe is almost there, this year I've gone for a lot more chunky knits and a lot more leather (which I'm loving right now!).
I've put together my ultimate fashion wishlist for the upcoming (even) colder days and if I had completely unlimited money this would all be on it's way to me right now. ASOS are killing it as usual and I've massively fallen in love with Forever 21 this season; so affordable and student purse friendly. Expect to see a lot of grey (so in love) and a lot of leather – hello Topshop studded skirt. There's also a little bit of suede, which I love that it's still in style and the most magical studded boots from the oh-so-affordable AX Paris. Basically, the high street has just so many amazing Winter essentials at the moment, I'm having trouble trying to pick only a few bits!
Shop my picks below!