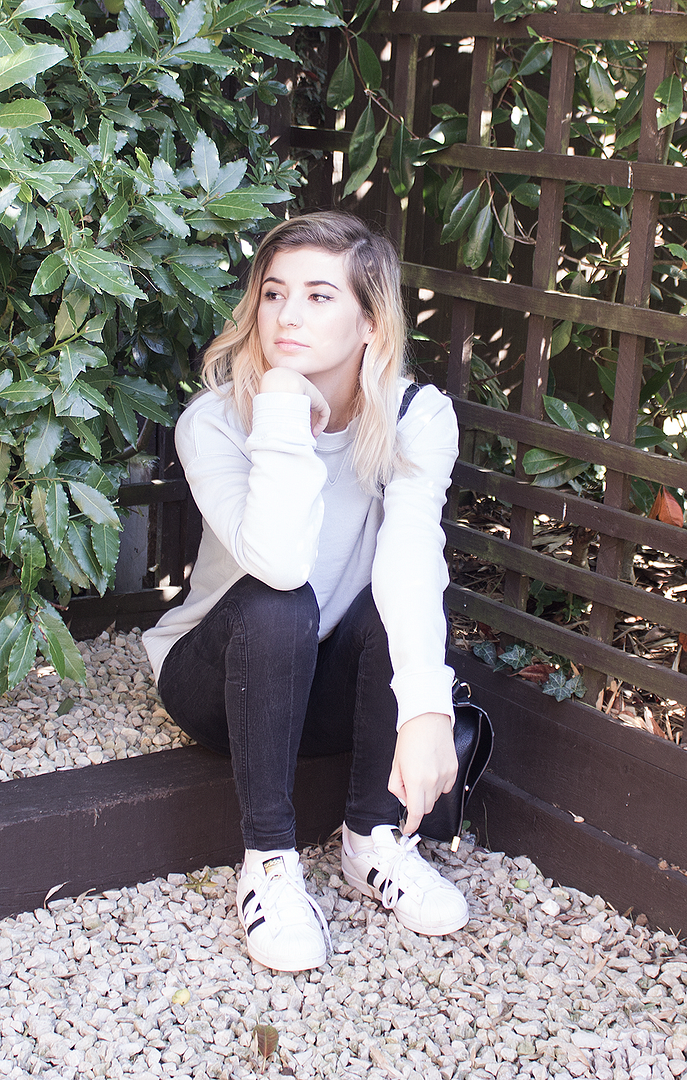 Sweater: Pull&Bear / Jeans: Missguided / Shoes: Adidas / Bag: Zara (Similar)
As the nights draw in closer and the likeliness of ordering a hot chocolate is greater than a ice cold peach lemonade; it's time to start dressing up that little bit warmer as well. It's official, I love sweaters. Yep, there is nothing more easier in the morning than just to throw on a comfy and warm sweater and be on your way. It really is that simple. What's best, they can be teamed with anything. Jeans, sweats, skirts and can even be worn over a cute dress. I'm slightly obsessed with this pastel one from Pull&Bear, I've pretty much only taken it off to be washed. It's just so comfy and easy and the pastel colour is keeping this going through the last off the summer. Another thing I've worn to death is my Adidas Superstars with the gold detailing. I wear sneakers pretty much on a daily basis and I just love how these change up from plain white sneakers. Let's be honest, they're effortlessly cool.
I'm going through a massive love affair at the moment with Pull&Bear. Purse friendly prices and quality pieces all make for an happy Abbi. At the moment they are full of pieces that are just perfect for back to school. Of course, I have more of their sweaters in my wishlist (I'm massively eyeing up that wishlist one, of course!) and you can shop them down below!
 ;