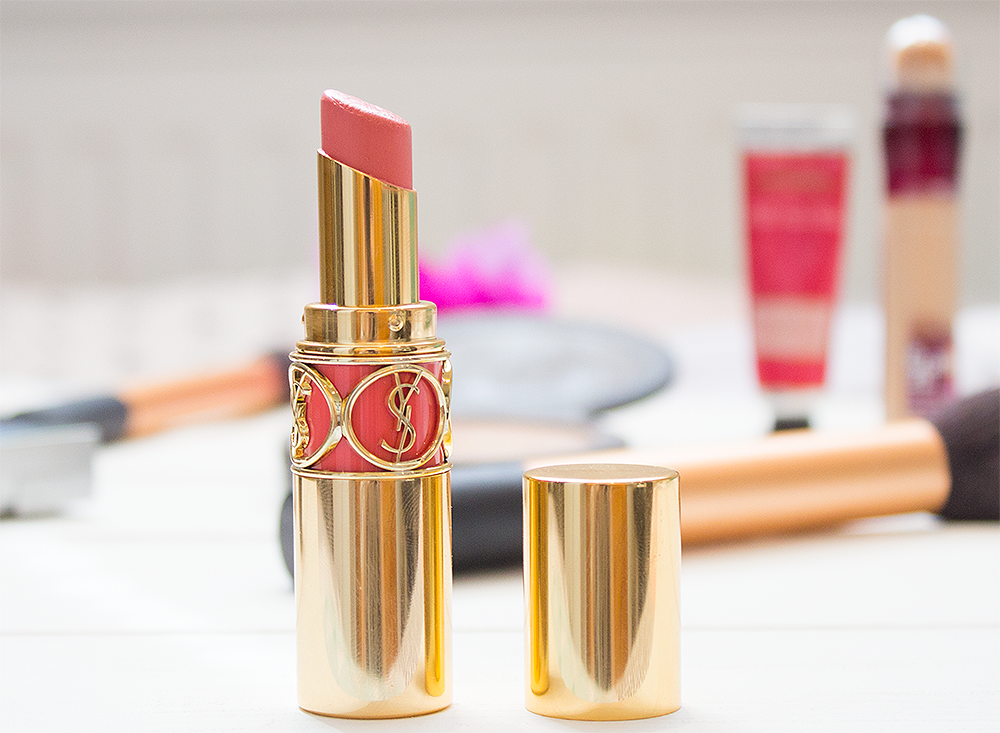 Some of my favourite products are the ones that manage to combine a wonderful product and beautiful packaging. The masterminds behind YSL have gracefully always managed to do this, especially when it comes to their lipsticks. No matter what you purchase from the beautifully golden lit beauty counter, it will be something full of luxury, a product you will want to display proudly on your vanity unit, the original cardboard packaging will remain with the product for as long as possible and you'll feel so wonderfully glamorous when you apply the product.
The
Rouge Volupté
lipsticks are my favourite collection from YSL; adorned in rose-gold packaging with the colour of the product around the middle featuring the famous YSL logo; it just oozes luxury and that's before you've even taken off the lid. Each lipstick is surprisingly very long-lasting considering how silky smooth these apply and just how moisturising they are. Even with dry lips as painful as mine, these add a beautifully soft layer of colour that's intensely pigmented. Dry patches are less visible and your lips honestly look as luscious and soft as they deserve to look all the time. This also has a impressive SPF of 15, not a lot, but still more than most drugstore brands.
113 Peach Passion is, as the name suggests, a rather stunning peach colour with a strong hint of pink. It's incredibly opaque and one layer is more than enough. I know we're already in August, but this colour is absolutely perfect the last few weeks of the Summer; it's so easy to apply and is just too beautiful for words, I can't keep my hands from picking this up! I do recommend exfoliating and moisturising your lips before using as it's butter-like texture does sink into fine lines but the colour payoff and creamy finish is well worth that extra five minutes.
It's a beautiful shade but I do find I can only really pull this off when I'm a little bit tanned, I would recommend that those with fair skin tones to give this a go before buying it as this doesn't work for every skintone. But there a plenty of other pinky shades in the Rouge Volupté collection so there will be a few bound to suit your complexion if Peach Passion doesn't!