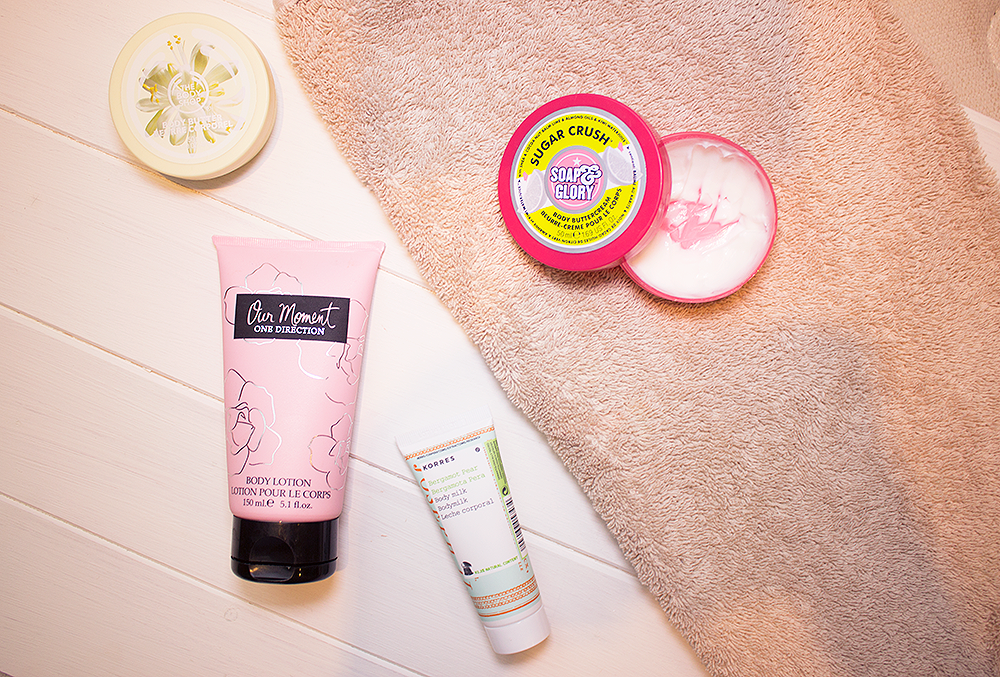 Moisturising your body is, for some people, mostly a chore; moisturisers can feel greasy and take too long to settle into your skin and some miraculously do the opposite of their aim and can make your skin feel dry and tight. Yet, moisturising your body is an important task and shouldn't be skipped in the post-shower/bath routine. Today I'm sharing with you my favourite moisturisers that successfully complete the task without the extra hassle.
The Body Shop is home to my all-time-favourite body and skin products and the
Moringa Body Butter
is no exception. Their body butters are somewhat legendary and it's clear to see why; perfect for when the weather gets that little bit harsher, their body butters are wonderfully thick that blend smoothly into the skin, they also manage to fix those really dry patches with minimal effort from you. You have to wait a little while for the butter to fully sink in but it's well worth the short wait, your skin will already feel hundred times softer at first touch. The moringa scent is subtle enough to be present but not overly powering.
A Christmas or two ago I was gifted the Our Moment Perfume Gift Set from my family. No surprises, I'm a massive fan of One Direction but I wasn't expecting to actually like the perfume. It's really lovely, soft, non-offensive and a wonderful every-day scent. Which leads me to the body lotion also in the box. This has a lighter formula but keeps your skin soft and supple. The scent of this is incredibly similar to the perfume itself but a much softer version, obviously perfect for pairing up with it. I find this scent lasts a good while too, paired with the perfume or not.
For those who like a much more stronger scent that really stands out, I couldn't recommend
Soap & Glory's Sugar Crush Buttercream
enough
.
Not only does the name itself make my mouth water slightly, this has one of the most incredible body butter type product scent's I've ever had the pleasure of smelling. Citrus fans will love this and this is also a perfect one to apply in the morning; the strong and clean scent really awakens the senses and gets you ready for the day (in which you are going to smell great).
Korres is a brand that has a lot of love. Their products really do have the quality and luxury factor without breaking the bank all that much. Their
Bergamot Pear Body Milk
is my newest favourite, the scent is lovely, very soft and reminds me of the forest. This has a thinner consistency than the others mentioned and is much more suited to those in more of a rush. I love how my body feels after I use this, soft, refreshed and again, no sign of that unnecessary greasy feeling.