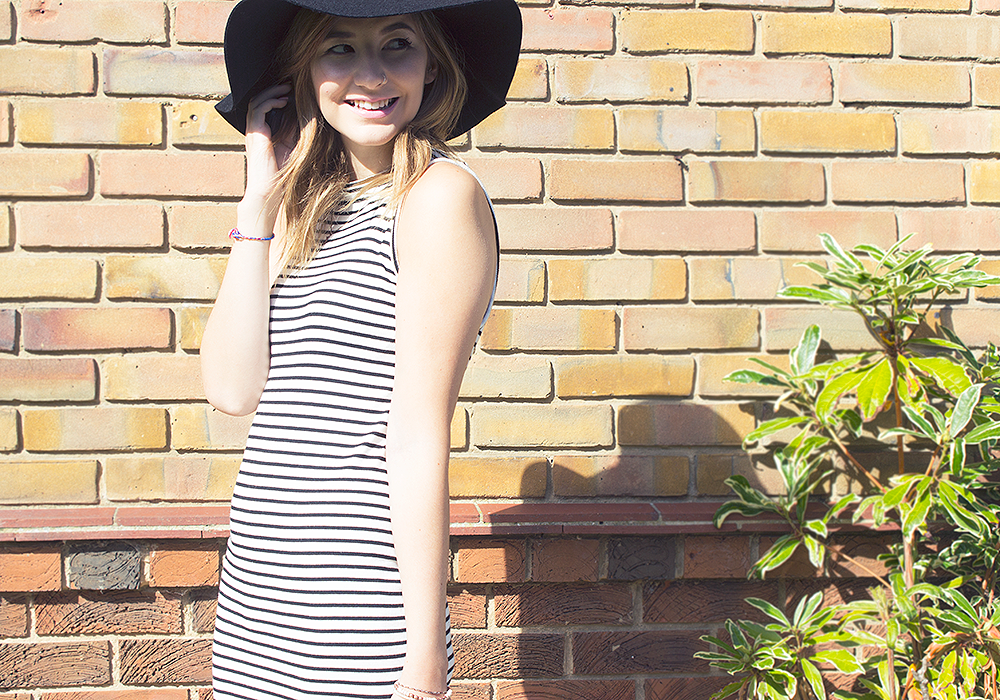 Stripes are kinda my thing. I know they're my thing because the other day my mother turned around and said, "Abbi, do you really need any more striped tops?" It was a question that really, only had one answer. Yes. But with a bit more of a tight budget recently (I'm saving to buy all of Mickey Mouse's merchandise at that theme park with a castle and mouse in September), I shrugged innocently and stepped away from the cotton striped garment in front of me.
I like casual. I like comfy. Stripes can transform a plain tee-shirt from well… a plain tee-shirt into something a little more chic without too much detail. I may own one too many tee-shirts but one thing my wardrobe was lacking was a midi-dress. I admired all the girls on Instagram who could pull these off and it took me months before I took the plunge. Actually, I really like it. It has the safety that, for me, a mini dress doesn't, it's fitted, which I like and it's perfect for those warmer days where I don't feel particularly comfortable in shorts. What's more, it's so effortlessly chic. A few simple accessories and some Converse and you really are good to go.
Floppy hats are again, effortlessly chic whilst protecting both your head and eyes from the sun. Luckily for those who live in England where Summer doesn't last more than two weeks (and I bet you, you were in school or work for those two weeks…) and the chill of Autumn is soon to be upon us, this is going to look pretty great with a fur gilet and something maroon coloured. September and October can have some harsh sun whilst not being particularly warm, so this kind of garment will be perfect.
I'm decked head to toe in Primark, but you can shop some of my favourite alternatives below: