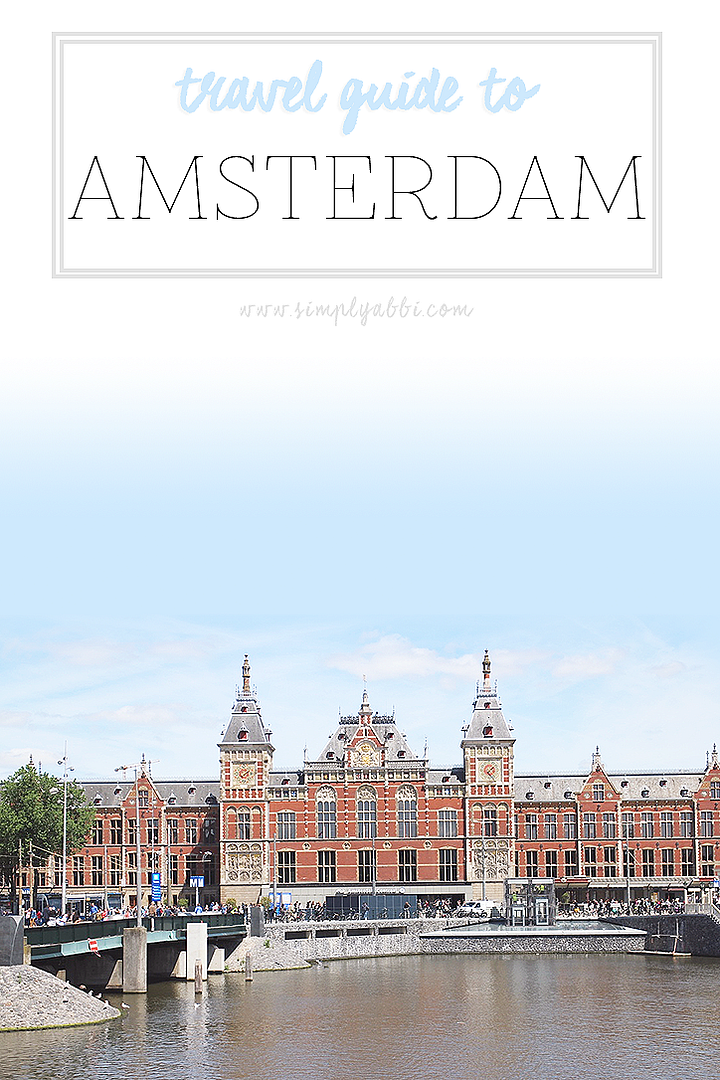 After my travel diary post (you can read it
here
) I thought I'd put together some tips (if you will) for travelling to Amsterdam. I am by no means no expert and I've only been once but this is just some of the stuff I noticed on my trip which may be helpful for others going for the first time too!
– We travelled to Amsterdam early June, the sun was shining everyday but it wasn't too hot which was perfect weather to walk around not over-heating and not really needing a jacket. There is lots to do inside in Amsterdam if you do go for the colder months but there is nothing like sitting outside a cafe in the sun watching all the canal boats go by.
– You know how in England we have to watch out for oncoming cars when we cross the road? Not in Amsterdam, it's
bikes
! They are everywhere and if you're brave enough, you can hire them and cycle around the city. We wasn't that brave admittedly, but all the bikes really did look amazing.
– In terms of transport, trams and buses are your easiest options. Make sure to get your tickets actually on the bus/tram though as some hotels add a little extra onto the prices. You can buy hour tickets, day tickets and 48 tickets I believe and they make it so easy to travel the city.
– If you see a HEMA store, go in there! They are amazing and are almost like a IKEA and Woolworths mix! Their clothes and stationary sections are to die for. There are two in London but they are dotted around everywhere out there!
– Amsterdam has some amazing shops! From individual stores, Michael Kors, Lush, Urban Outfitters and even a Primark and Tiger, you really can shop till you drop! There's also tons of sex shops, cheese shops and of course tourist type shops.
– We stayed at the Blue Western Hotel. It was near enough to the airport and only about 10 minutes on a tram to Amsterdam city centre. There was a KFC and supermarket next door, super fast wi-fi and tons of TV channels to binge watch in the evening. There was actually quite a lot to do in that particular area as well, quite a few restaurants and shops to explore! The room was lovely and staff seemed super helpful. I booked with lastminute.com so not sure of the usual rates but I found the hotel to be very purse friendly for when we booked (and I'm a student!).
– Make sure to take a canal cruise! There are plenty of stop-off places are around the canals and you're never more than a five-minute walk away from one. There are plenty of different options; you can do a full tour, hop-on and hop-off (our favourite option) and even some fancy dinner tours in evening! It's a really relaxing way to get the feel of Amsterdam and learn more about the city!
– Not exactly my thing but there are plenty of coffeeshops everywhere (you don't need to walk far!) and it's also worth walking around the Red Light District just because it's Amsterdam and you can! It's certainly not as seedy as I thought it was and let's be honest, you can't be a tourist in Amsterdam and not go!
– The Sex Museum is hilarious and actually, quite fascinating. Probably not one to visit with your mum, but a must do nonetheless.
– It's incredibly easy to get lost in Amsterdam and it's actually better I think to dump the map for a bit. Just walk and walk and walk and see where you end up, you will come across less tourist places and enter what I feel is the 'real' Amsterdam.
– Amsterdam also has plenty of parks scattered around, again, perfect for a sunny day to relax when you're feet start to ache! Perfect if you want to take a more chilled approach to Amsterdam.
– Street markets are incredibly common and were one of my favourite things to explore. I know the famous flower market is a local and tourist favourite but literally, where ever you turn this is some sort of street market! It's very easy to be seduced by all the stalls and sights!
– There is some sort of food place on every corner in Amsterdam. It will be so hard to make a choice as there is literally millions of places to choose from. I regret not doing any research on where to eat in Amsterdam and would really recommend doing a quick Google search. It's also quite expensive to eat in Amsterdam so make sure to look around as every now and then you'll find somewhere purse friendly. We ate some traditional dutch food, pasta, pizza and lots of indulgent treats like pancakes! You will be in food heaven. I promise.
– It's also worth going online and seeing if you can find tours that include the Anne Frank museum. We did and whilst we paid a lot more for the tickets, we got to learn about the Jewish history in Amsterdam and skip the line at the Anne Frank house which is so worth it. With people queuing for over four hours, it's not worth wasting any time on your trip. Also, the Anne Frank museum is incredibly moving and an experience I won't forget and in my opinion, the number one most do thing when travelling to Amsterdam.
– Shop around before buying any attraction tickets. Like London, there are hundreds of different merchants selling the same thing for so many different prices (for example, the Ice Bar, Madame Tussauds, Canal Trips etc). We mostly found that it was cheaper to buy tickets at the official merchant than it was elsewhere.
– There's Starbucks and McDonalds EVERYWHERE in case you need a taste of home.
– Make sure to bring along your camera as there is just so many beautiful areas to snap some photos of!