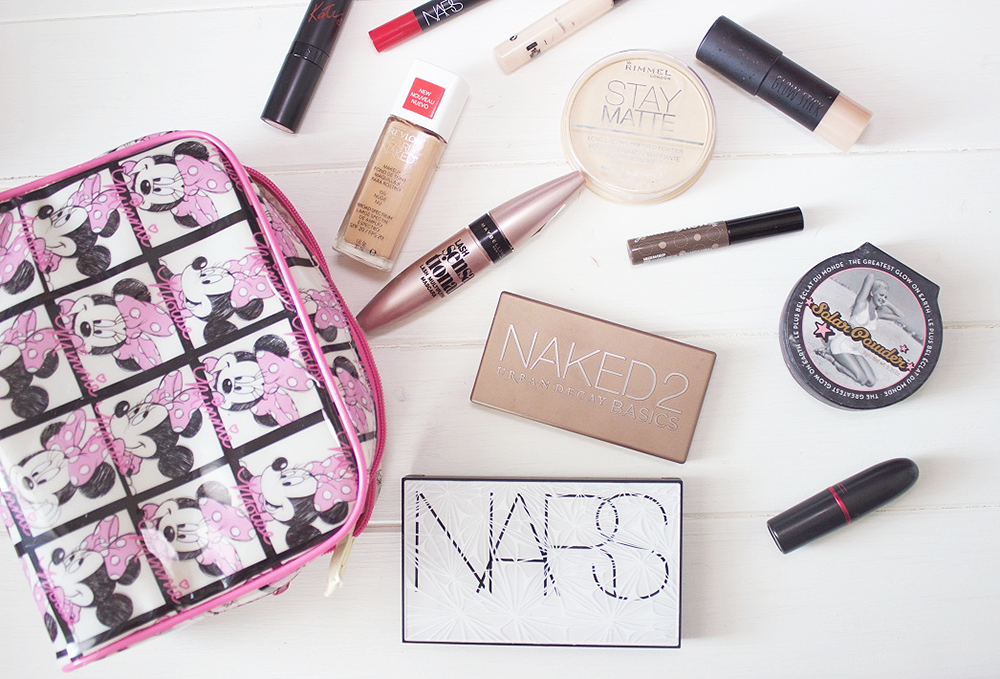 As you may know if you saw my latest Youtube video, I am currently in Amsterdam! Totally exciting I know, but it meant that I had to pack my travel makeup bag which isn't an easy task for the over-packer. Don't ask me how, but I did actually manage to tone it down slightly, which is incredibly impressive if you ask me…
For my base, I decided to take a foundation I've rediscovered and fallen in love with all over again. The
Revlon Nearly Naked Foundation
is slightly too dark for me normally, but since I burned my face by accident the other day, this matches me pretty perfectly. Revlon claim this to be lightweight but I couldn't disagree with this more and say that this is actually quite heavy on the skin and is definitely medium to heavy coverage. Despite the slightly off claim, I really like this foundation and it lasts all day which is just what I needed for when I'm walking around Amsterdam! Concealer is
of course
Collection Lasting Perfecting Concealer
. There was no way I was taking anything else, this is my all time favourite and mine is the lightest shade meaning it doubles up as a very good concealer and fabulous highlighter!
For brows, i.e. the most important part of the whole make-up routine, I opted for my
Urban Decay Naked Basics 2
palette for two reasons. First,
Cover
is a spot-on match for my eyebrows and plus all six shades together can create some amazing eye looks without the need to bring liquid eyeliner or any other shades. I've been much preferring a natural look recently and this palette is just perfect for that. I've also brought along the
Benefit Gimme Brow
which
I'm currently testing out and trying, so far I've been loving this as this really feels out your brows like mad but the overall look is very natural.
Mascara is my trusty
Maybelline Lash Sensational
which I just can't get enough of at the moment. This creates just the right amount of volume without going too spidery and really spreads out my lashes. Again, perfect for everyday when you don't want to apply lashes!
As I didn't want to carry four or five blushers with me, I opted for a palette instead, the one I've chosen being the
NARS Virtual Domination Palette.
With 3 blush shades, a shimmery highlighter and the perfect bronzer for contouring, this is the perfect palette for travelling. For whatever reason, I don't seem to get as much use out of this when I'm back home, but this has been wonderful and so handy out here, it also comes with a pretty big mirror which is perfect if your hotel bathroom has that scary yellow lighting or you just don't have a good enough mirror! I also couldn't go away and not bring my
Soap and Glory Solar Powder
with me. The flimsy cardboard packaging was not made for travelling but as this is such a staple in my everyday routine, it just had to come with me. This is the perfect all over bronzer just to add a warm, natural glow. I personally wouldn't use this for contouring but it's very easy, very subtle and very essential if you ask me! The highlighter in the NARs palette is just slightly too shimmery for everyday so I brought along my current favourite, the
Topshop Stick Highlighter in Play Up.
I've fallen in love with cream highlighters and this is just the perfect size for travelling. It creates, again, a very natural glow that can be built up if you want it to be! Powder is the same as always, the trusty
Rimmel Stay Matte
, that let's be honest, I'm probably never going to change.
Lip products is where I struggle the most to only bring a few but I figured, as I'm only in Amsterdam for three days, I would bring three lipsticks. Logic at it's strongest people! I settled for a three statement shades; a pinky nude, a bold red and a fuschia. For the more nude shade, I settled with my current favourite,
Rimmel's Kate Moss Lipstick in number 38.
I'm such a big fan of the range because of the slightly irresistible scent, the incredible staying power and the intense pigmentation. This shade itself is more of a pink than a nude but it's very flattering and just an all around beautiful shade. It's just one of those lip products you can't go wrong with. I also brought my favourite red lipstick,
NARS Lip Pencil in Dragon Girl
. Such a beautiful, bold red that is, again, so flattering and I just can't get enough of this. The crayon size also means it's the perfectly travelling companion and this is another one that you can just apply and go about your day as this won't budge. I can't recommend this enough, so, thanks for that one Taylor Swift! Lastly, for the bright pink I packed the
MAC Miley Cyrus Viva Glam lipstick!
This colour is just so beautiful and the lipstick itself is very creamy and a dream to apply. You have to be slightly more careful of this one and you will need to reapply throughout the day, but the colour of this really does make it worth it.
I hope you're having a lovely week whatever you are doing and aren't getting the holiday blues too much!
A x