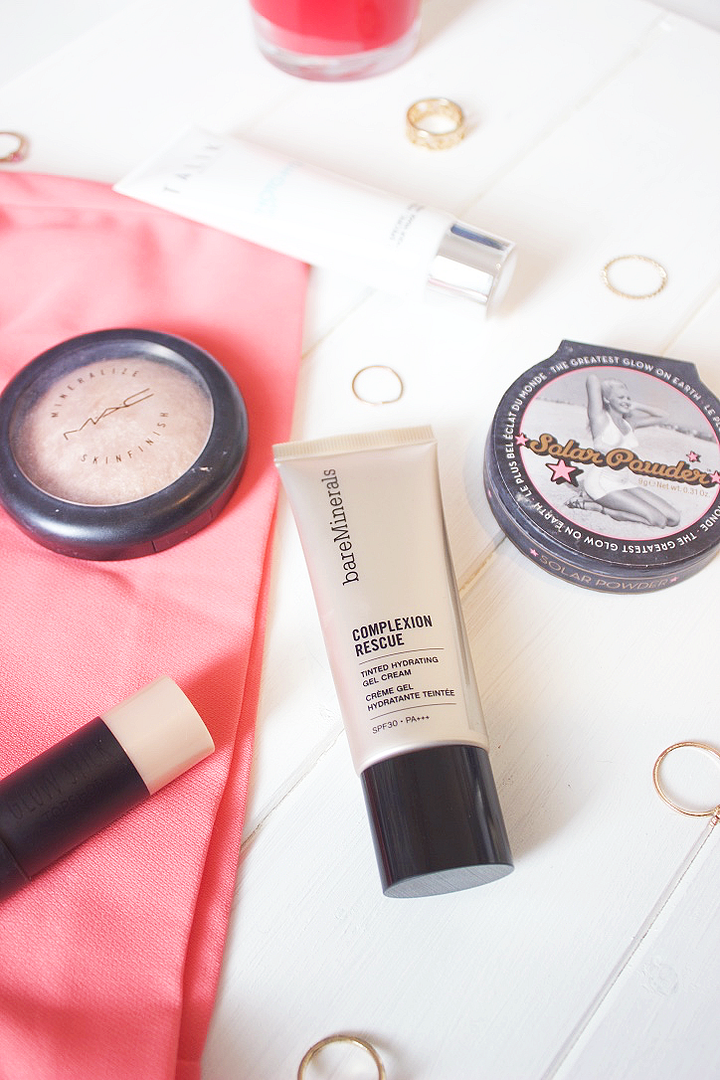 My skin may not tan easily and I may not reach for the bottle of the fake stuff but I do love myself a glow. Achieving that natural looking soft glow can be difficult though and can very easily turn into what can only be described by those horrid words… 'greasy' and 'shiny'. I've recently been reaching for products that I feel create and enhance that glow so today I thought I would share them with you.
The
Talika Photo Hydra Day Moisturiser (£43.50)
is a pricey addition to your collection but if you're subscribed to
'My Little Box'
you would of received this a few months ago in one of their boxes. This product has such a wonderful consistency, leaves your skin feeling wonderful and really does do wonders in the hydration department. This also manages to add a radiant glow to my skin which just makes my skin look less dull and makes applying the base so easy. Even with a foundation over the top, that glow is still noticeable and don't ask me how the product does it because I don't know, but my skin looks a whole lot better once I apply this moisturiser every morning!I'm a dewy base girl and whilst it's incredibly difficult to find a base that is build-able, will last happily all day and offers that beautiful dewy finish, it's not entirely impossible. In fact, I may have just found one. I'm not the only person to talk about this product recently and I sure won't be last but reading review after review of this particular base, there was no way it wasn't coming home with me. The
Bare Minerals Complexion Rescue Tinted Gel Cream (£26.00)
is my brand new holy grail product. I adore this. This offers a medium coverage (that you can layer) and takes my face from dull to dewy in a minute or so. I tend to avoid really dewy bases just because they can sometimes come across on the greasier side but nope, Bare Minerals have managed to add just the perfect amount of dewiness in this. This also manages to last all day and with SPF 30 (hello Summer!) in this alongside that dewy base that helps achieve that glow well…. I'm hooked.
I always use to swear by completely matte bronzers. Of course, if you want to achieve that Kim K contour, they're perfect but my life has literally been changed (slightly dramatic maybe?) by the addition of a slightly shimmery bronzer in my makeup bag.
Soap & Glory's Solar Powder (£11.00)
not only adds some warmth and dimension onto the skin, but the slight shimmer adds such a wonderful subtle glow. This also isn't crazy pigmented which is actually rather helpful in the bronzer department; it means you can apply this as lightly as you want to and build it up. I now struggle to not use this in my makeup routine – my face just doesn't look complete without it! Another amazing offering from Soap and Glory!Highlighter is essential if you want a lovely glow and it was practically impossible trying to narrow it down to just one so I've decided to talk about two! First up is my longest standing highlighter in my collection and one I always go back to,
MAC's Mineralise Skinfinish in 'Soft & Gentle' (£23.00)
, a blogger favourite, this is a heavily metallic highlighter that only needs the lightest of hands to apply it. It's super easy to go slightly overboard with this product (don't worry, we've all done it ladies!) but when applied lightly, this is just too beautiful for words. This is the perfect finishing touch to any makeup look and lets be honest…. it's going to last you ages!
Lastly is the newest product in my makeup collection. Topshop's Glow Stick in 'Play Up' (£10.00) takes highlighter and makes it super easy. A travel-friendly product, this allows you to really apply the highlighter exactly where you want it with complete precision. I like to just draw this on where I want it, and then use my finger to smudge it out and the finish is just wonderful. This isn't overly glittery but offers a really nice subtle sheen that can be built up if you want it to be. This is also perfect for chucking into your handbag for touching up that gorgeous glow all day/night long!
What are your favourites products for achieving that Summer glow?
A x