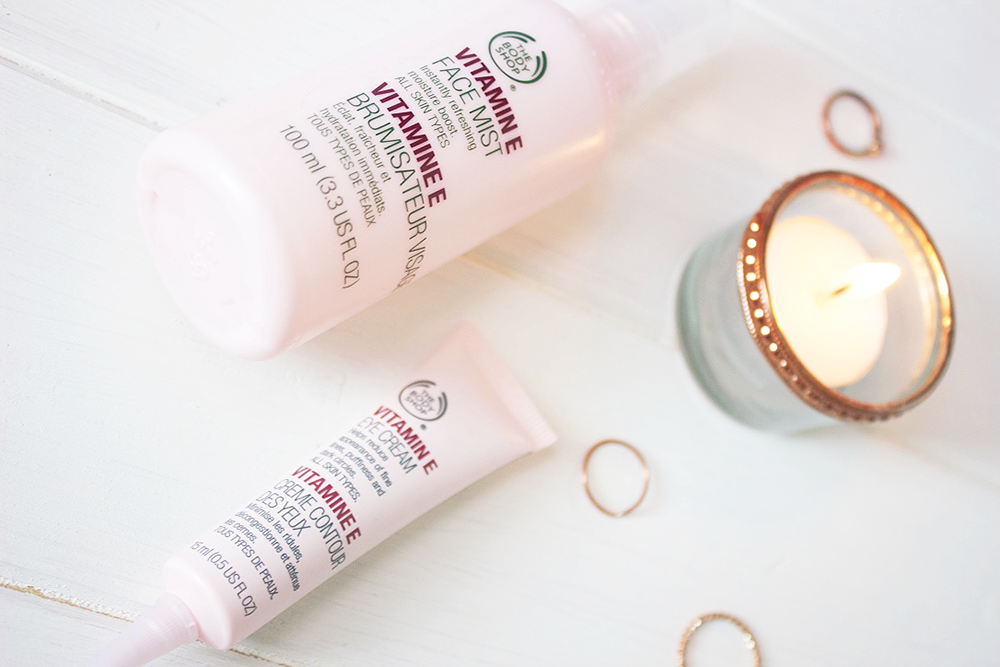 The Body Shop is one of my favourite places to shop ever; there is just so much variety, so much to choose from and the staff I've encountered have always been super lovely and helpful. Their popular Vitamin E range has been out for quite a while now so it's by no means new but I randomly purchased some bits the other day and thought I'd share my first impressions.
The Vitamin E face mist is one of those products I just 'wanted.' By that I mean, I just wanted it in my collection but I knew it probably wouldn't be a holy grail product and I knew I didn't need it; I just wanted it. Though, saying that, I really do like this and find myself reaching for it more often than not. There are just so many uses for this; setting your makeup, wetting brushes to make eyeshadow mroe intense, using it as a primer… the list goes on! My personal favourite use is using this throughout the day where mabye my makeup is starting to look not so fresh and spraying this helps to just make my makeup look so much more refreshed and alive. It also gives a lovely dewy finish which is perfect if you're foundation/base is a little bit too matte for your liking. This doesn't have a very strong scent at all which I like, just a tiny touch of rosewater which is lovely and refreshing. This is also perfect for if your makeup goes flaky or adheres to any dry patches and visually reduces the appearence and feel of them.
I also picked up the
Vitamin E Eye Cream
as I started to noticed that the skin around my eyes had gone quite dry and my concealer was always setting into those pesky lines. I've been using this for about three weeks or so and that dryness I mentioned has cleared up and the skin feels so much nicer. I've also found that my dark circles have faded which is slightly miracious! Ultiamtely, I can't see myself buying myself another eye cream anytime as I'm seriously so impressed with this!
Both of these products are increadibly affordable and are welcome additions to my skincare collection. Not only that, there are plently more products avliable in the Vitamin E range so there is something to suit everyone depending on what you need! Another winner from The Body Shop!
I hope you all have a good weekend!
A x