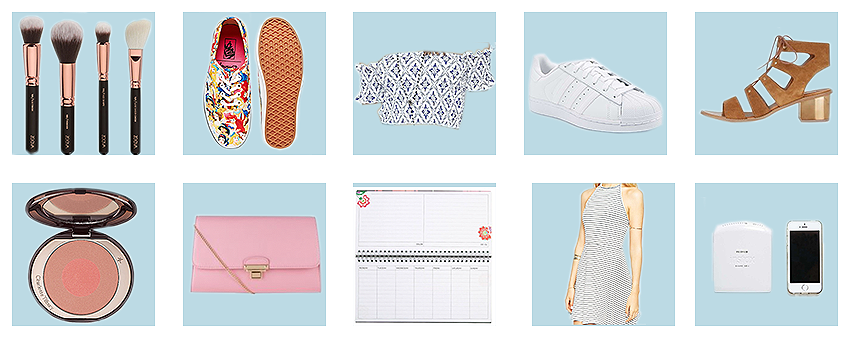 I always find it puzzling that both Summer and Winter clothes come out way before it's Summer or Winter. I know it's the norm but I never want to buy Summer clothes when I'm still layering 50 different pieces y'know? That's why it's always around this time of year that I really start to want to pick out my Summer wardrobe. We've had some lovely hot days here in the UK that has, once again, made me realise I only have a handful of suitable Summer clothes! Here is this month's wishlist which features a few more Summery bits and pieces!
The Zoeva brush set I purchased around this time last year is, without a doubt, my favourite brush set of all time. The brushes themselves are beautiful, incredibly soft and just feel like they've been made with love. Let's be honest, the
Rose Gold Luxury Set
is just so beautiful and contains, what looks like some super useful brushes. The price may look a little scary, but I can vouch and say these are totally and completely worth every single penny. I'm thinking of putting these on my birthday list!
I'm massively gutted that these
Disney Princess Vans
are sold out on ASOS! *Insert crying emoji here*. These are my favourite out of the whole collection and the only pair I can really see myself wearing; I wear a lot of black and white so these would add some much-needed colour to my wardrobe and let's be honest, they're pretty cool, right? I'm obsessed with these and I've got my fingers crossed that they come pack in stock real soon! Please, ASOS?
When I saw Perrie Edwards,
my ultimate girl crush,
sporting this
beautiful blue bardot
, I just knew I had to have it! She teamed this with a massive statement necklace, a beautiful pink maxi skirt and some simple sandals and as she always does, she looked amazing. You can see the outfit
here,
by the way! The outfit as a whole is just so perfect for Summer and looks effortlessly chic. I feel like Perrie always gets it spot on and her boho-chic vibe is my favourite style and I can only hope I pull it off as well as her!
Contradicting myself slightly… but I recently am going through a phase of loving trainers! It was a rare sight to see me wearing anything but my converse but I've found myself shying away from them slightly and non-stop wearing some other trainers. I'm currently lusting after
this Adidas pair
from Urban Outfitters. In fact, I'm pretty sure I had a pair incredibly similar to these when I was a kid, how funny! Once again, trainers are just effortlessly cool (do I sound old?) and can literally be paired with any outfit, which is my favourite thing about them. Oh, also, they get plus points from me because on a comfort level they are literally a 10/10.
Staying on the subject of shoes, how beautiful are these
Topshop bronze heel sandals
? I love these and the second I get paid these are going straight into my virtual basket! I love the whole lace up/gladiator style and just adds that little something to what could have been quite a plain sandal. I'm also obsessed with the tan and the bronze heel; two very perfect Summer colours that are just going to look great paired with some white jeans.
In the makeup department, I'm still obsessing over Charlotte Tilbury! It's ridiculous really that I'm yet to try any of her makeup items! I'm currently trying to pick two or three of her collection to put on my birthday wishlist and one of those options are the beautiful
Cheek to Chic Blushers!
I've seen blogger after vlogger rave about these and they always look so beautiful when applied. I'm not the biggest blusher girl in the world but I think it's always good to have some staples in your collection and I just can't help but think I would get tons of use out of this!
As mentioned before, I wear a lot of black, white and greys so I think it's mostly always essential that I accessorize with colour; it can take a 'meh' outfit to 'wow' super easily and doesn't really require much effort, yay! This bright pink clutch from New Look caught my eye when I was browsing the other day and I couldn't help but think how perfect this would be to jazz up a plain outfit but also for Summer! I hate carrying around lots of junk in my bag so the size of this would mean you would only pack the essentials. Also, I love New Look bags and have had quite a few over the years; they are so purse-friendly and pretty, what more could you want?
An Abbi wishlist wouldn't be right without some stationary would it? The Fiestaval Desk Pad from Paperchase is what I'm lusting after at the minute! This has a day-to-day planner and also the space for notes…. I love it! I need to get myself more organised and I'm so much better at life when I am so I feel lists are essential for me. This is so pretty and isn't crazy big either so won't take up too much space on your desk!
Back onto fashion now and isn't this
Sundress
from ASOS your perfect Summer dress? I barely ever wear dresses and hardly have any in my wardrobe but I love the stripes and simpleness of this one! The halter neck design is super pretty and you would need to do is pair it with some sandals or pumps, a fringed bag and you're good to go! I reckon this one will be going straight into my basket on payday!
And lastly, this cool little gadget had made it's way onto my wishlist. I first heard of the
Fujifilm Instax Printer
a few months ago but didn't look at it all too well as it was slightly out of my price range but with my birthday coming up, I think this will make the perfect gift! I love my polaroid camera but as I don't take it
everywhere
with me, there are still many memories captured on my phone that I would love to print out in the polaroid style. Yes, it's slightly costly and the film isn't cheap but if you save this for those really special moments, I think this is well worth it!