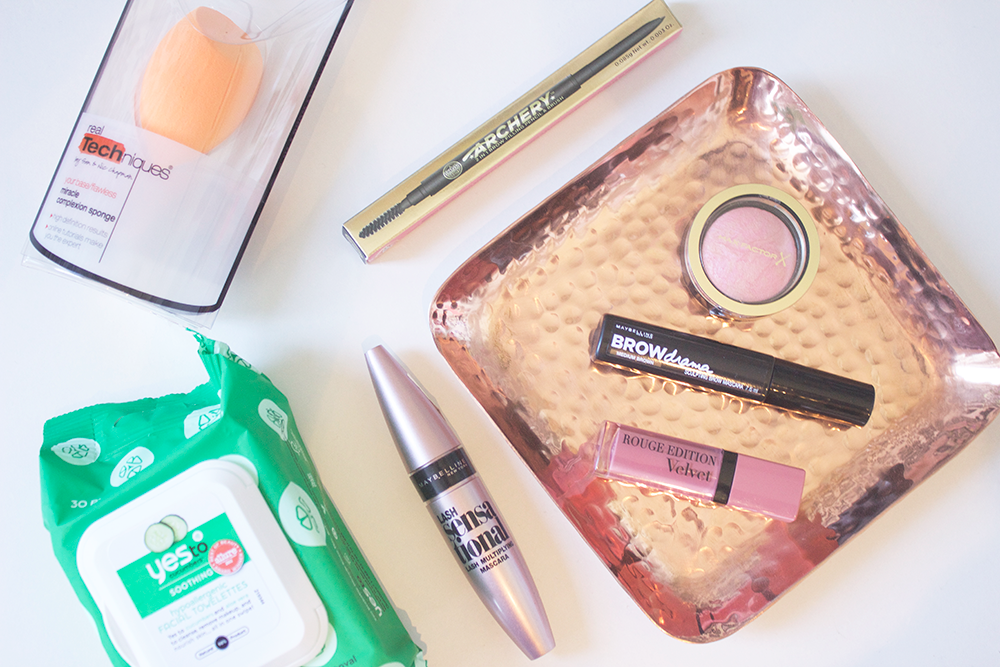 You know the days, "oh, I'm just popping into Boots for some cotton pads!" £40 extra later…

Makeup is my weakness. I have the willpower to not buy clothes I don't need but when it comes to makeup, I lose all control. I promise I only intended to go to Boots to buy a new mascara as my L'oreal Miss Manga had dried up. But of course, like any other Boots trip I've been on in my life, I walked out with a lot more than just a dang mascara. So weak.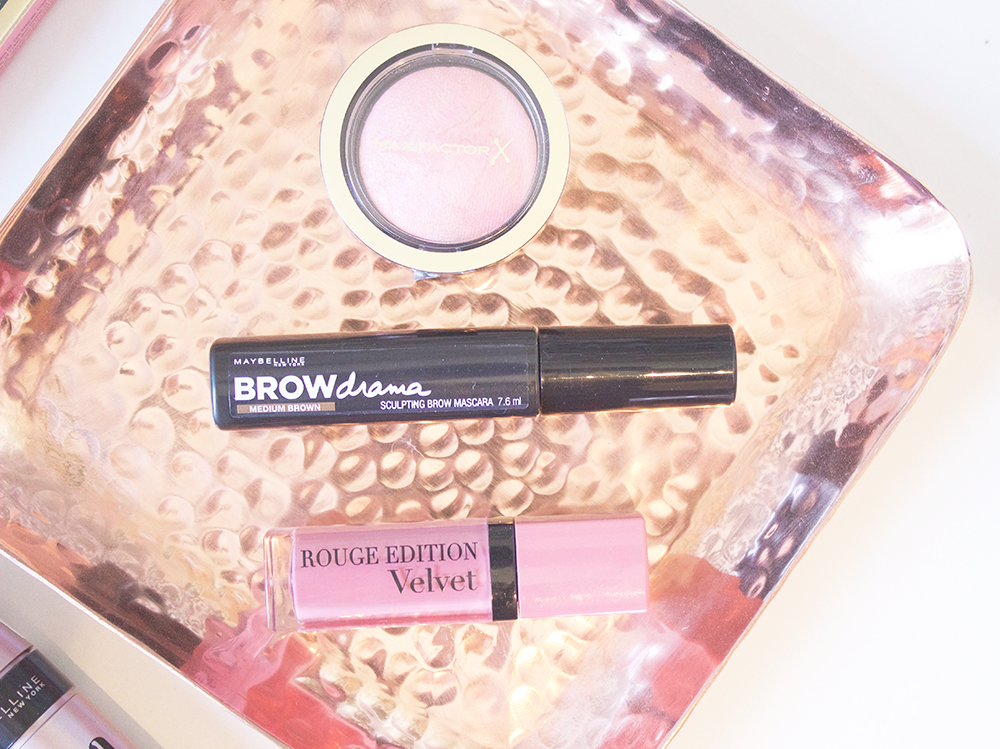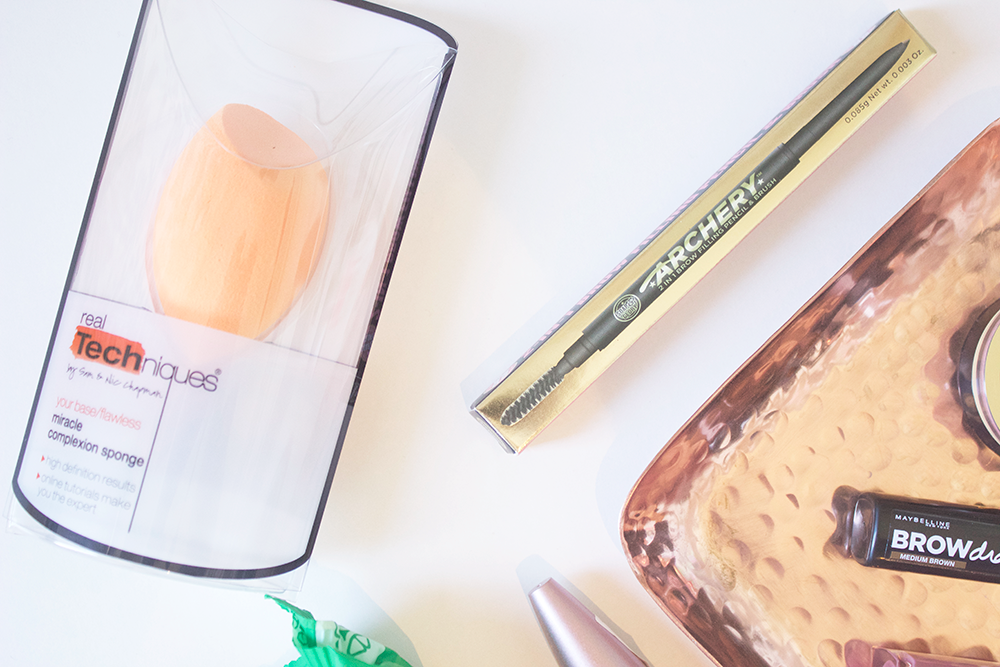 The first thing I didn't need to pick up but did is the Soap & Glory Archery 2-in-1 Eyebrow Pencil and Brush (£8). I already own and use the original Archery pencil, the one with the tint on the end but I just do not use the tint. I don't like it all that much and I definitely think it's a tiny bit patchy so I only use the wax end. On this edition of the pencil, the wax end is a lot more thinner, so hello to a lot more precision and definition on 'dem' brows, it also has the wonderful edition of a brush on the other end. This is so much more welcoming and this will 100% get way more use over the original archery pencil. You also have the benefit of this one being £2 cheaper… leaving you £2 to spend on more more makeup! Rejoice!
Obviously a trip to Boots is regularly influenced by other bloggers and their recommendations. This led to my next purchase. The Max Factor Creme Puff Blushes (£8.99). They're supposedly meant to be a pretty good dupe for the Hourglass Ambient Lighting Blushes which retail at £28. I've read post after post on these little pots of colour and I knew as soon as I was at the Max Factor Stand that I had to buy atleast one. I really like the colour range and the pigmentation and texture is incredible. In the end I went for 05 Lovely Pink which is the lightest on the bunch. It is a beautiful rose pink colour with peach tones and tiny particles of gold shimmer. I think it looks really lovely on the cheeks and is the most perfect spring shade. The size of the packaging also means it's a perfect product for travelling.
Stepping away from the makeup only slightly, somehow the
Real Techniques Miracle Complexion Sponge (£5.99)
made it's way into my basket. It's shocking, I know! I've always been quite intrigued by the whole beauty blender thing but for whatever reason, I've just never tried one. Whilst I was looking and lusting after the
Bold Metals Collection
this was placed directly underneath and at just £5.99, this was a much more purse friendly option. I'm yet to try this out, but after watching Victoria (
IntheFrow
) use this to blend in her concealer flawlessly, that's definitely going to be my go-to technique.
Back to eyebrows and I finally picked up the
Maybelline Brow Drama (£4.99)
in medium brown. Talk about overdue! Since the whole eyebrow routine has become such a staple in my makeup routine every morning, I felt the need to try more products out than just using my trusty Archery. Brow drama has been on my wishlist for a while and it seems the perfect go-to option for quick, fuss free, made up brows runway ready. At just £4.99 it's much cheaper than the Benefit version and I'm super excited to give this a try!
No Boots Haul is complete without a lip product so the one that made into my basket is the widely loved
Bourjois Rouge Edition Velvet (£8.99)
matte finish lipstick. I picked up shade 10 'Don't Pink of it' (love the name) which is a dark pink nude. On first thoughts, I love the liquid texture; it's surprisingly not as messy as you would think, it's super pigmented and lasts a good few hours! My only problem is the colour, despite watching this and thinking it looked lovely, it's just a touch too dark for me and I feel it doesn't really suit my skintone. I have a feeling this may look better when I'm either a bit tan or super pale. Just not the inbetween I am right now. It's such a shame, as this really is a lovely product!
Again, stepping away from makeup and onto skincare, I brought the
Yes to Cucumber Soothing Facial Towelettes (£3.99).
I know makeup wipes have their fair share of controversies and are not everyone's cuppa tea but I think they can be really useful. Those nights where you literally cannot be bothered to go through with your full cleansing routine? Wipe out a face wipe! Home late from a party or dinner? Grab that face wipe! On holiday and don't have the room to pack your full skincare routine? Say hello to the face wipe! I feel it's always good to have some on hand, you never know when you're going to need/want one! I picked up this ones because again, they are a complete blogger influenced product, the cucumber fresh smell is delightful and doesn't soothing just sound really inviting? They are also 98% natural and cruelty free, which I really like!
And lastly, the mascara that I originally went in there for! When my
Miss Manga
mascara dried up unexpectedly the other day, I asked my mum if I could borrow her mascara. She's got the
Maybelline Lash Sensational Mascara (£7.99)
and as soon as I tried it, I really liked it! It lengthens my tiny little lashes really nicely without creating that spider lash effect and in my opinion, just looks really nice! This also had just the right amount of wetness, not to wet that you end up with it all around your eye and not to dry that it takes a lifetime to apply. I'm super fussy when it comes to mascaras, but this one has really impressed me!
Now that my purse is feeling a little lighter and my makeup collection a little bigger… I think it's time to lay off the spending for just a little while! Have you been hauling any makeup recently? What did you buy?