It's technically not really spring, though at the moment, the sun and stores say different. As I am typing this; the sun is currently shining through my window and it's been one of the few days I haven't needed to wrap myself up in burrito style blanket and wish to be back in bed. As I mentioned in last Tuesday's post; my body is craving spring and so I popped off to good ol' Primark to pick up some pre-spring bits to get all excited for the warmer months.
Because I am meant to be on a spending ban – whoopsy – I didn't buy as much as I wanted. Plus, like mentioned, it isn't officially spring so I didn't want to overdo it just yet. The first thing I picked up doesn't have much to do with spring really… but say hello to my Frozen cup! Now, there is actually a good reason behind this purchase! I've been wanting to make myself some fruity smoothies for ages now, I even got a new blender and everything(!) but I can't drink them without a straw. Not only is it super cold on your pearly whites, fruit is highly acidic and the thought of the all the mushy fruit going on my teeth scares me slightly. (Slightly overdramatic I know!) But, that's why I wanted a cup with a straw. Paper straws, whilst cute, are slightly impractical and I just wanted something easy, you know? So this frozen cup is perfect; super good size, it's got my plastic straw, it has Anna and Elsa on it and it's just super cute. Couldn't resist. Clearly.
Now onto actually fashion bits, the first two bits I picked up are these two bardot style tops. At just £3 each, I figured they were slightly essential for my wardrobe. I picked them up in two colours (black and white) and I pictured wearing them on a spring day, with either a skirt or jeans or even over a bikini. They are super cute, super simple and have a nice stretchy material (stretchy is always good for me) and would just make a cute spring/summer outfit. Again, only £3 people!
I also picked up this almost vest style plain white shirt. I wore a long sleeve shirt the other day for the first time in forever (yes I was singing Frozen when I wrote that…) and it reminded me how much I love the simple, chic look of shirts. Of course, when it's a bit warmer, I don't want to be wearing long sleeved shirts so this vest type one is just perfect for spring and summer. It is a wonderful soft feeling material with a front pocket and rolled up sleeves. Perfect for everyday and of course can be jazzed up for evening wear. This was only £8 which isn't too bad, let's be honest!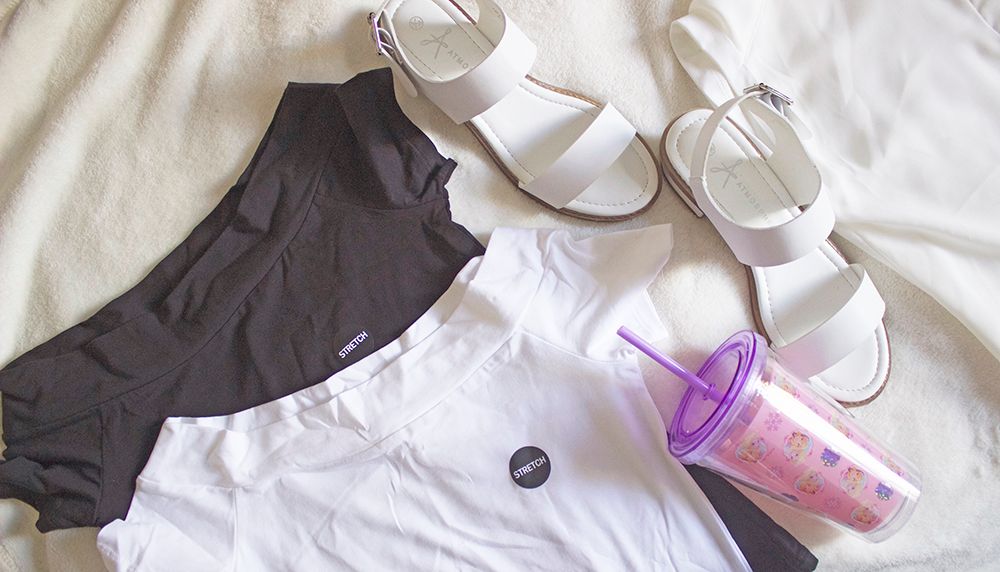 Last up I picked up these white strap sandals. I'm not a big fan of feet so even in summer I will parade around in my Converse or Vans but even I knew that this year I needed to be slightly more practical. (Converse in hot weather? A bit of a sweaty mess…) I particularly liked these sandals because of the slight heel. Completely flat sandals are just the worse for my feet and I feel like I just need a little heel to make them more comfortable for me. I also loved the white colour, white is such a strong colour in spring and obviously goes with everything and ultimately, these sandals looked just that little bit more chic than the same black pair. I thought these were just really cute and would go with a lot of items in my wardrobe! These were £12 which is a little bit more money than most of their other sandals, but I think they look like they could be so much more than that!
So now I'm officially back on my spending ban. I'm saving up for a new camera (Canon EOS M – looks so good!) and need to stop spending random money on clothes and makeup for a while. But this little haul will do me as the days turner warmer and I don't need to reach for the woolly jumpers as much!
I hope you have a nice weekend!
A 🙂
* Sorry for the creases in the tops – I currently don't have access to an iron…