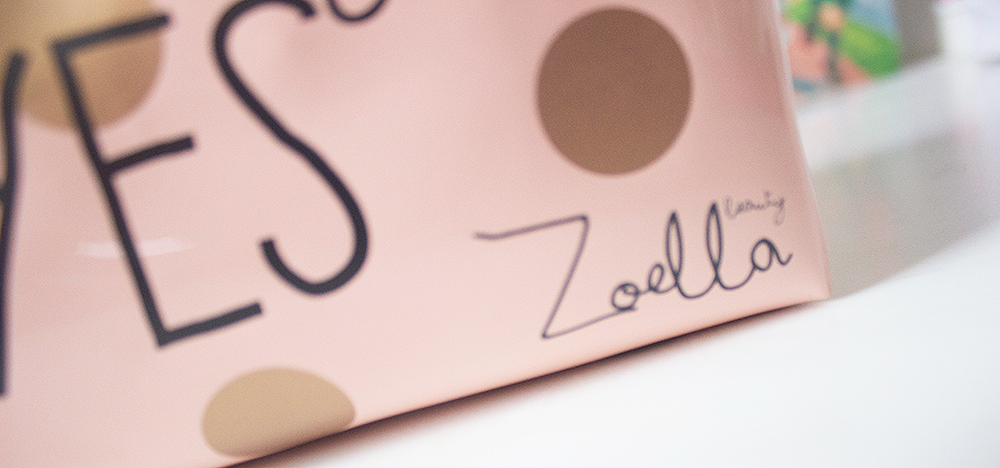 I mentioned in lasts week wishlist that I really wanted the limited edition, brand new
Zoella 'Just Say Yes'
makeup bag/pencil case/whatever you want to to use it for bag! I'm a fan of some of the products in the ZoellaBeauty range but neither of the permanent range makeup bags really caught my eye. Don't get me wrong, they're both very adorable but both of them were just not to my personal taste. Buuuut then Zoe only went out and released another one! The 'Just Say Yes' bag is my personal favourite! I love the pink and gold together and I also love the fact that this bag doesn't have any images on it. It has the signature Zoella font which says Zoe's famous quote, 'Just Say Yes' and then, in a smaller font, 'Zoella Beauty'.
Not only is the bag itself super cute, it's also super spacious without taking up too much space. If ya know what I mean? It's big enough to fit all my everyday bits in (including brushes) but isn't crazy big that I can't store it anywhere or even put it in my travel bag. As someone who travels a lot (mainly from Brighton to Essex), I do try and travel light. It doesn't always work that way (translates to: It never works that way) and it's usually my makeup bag that can take up the most space. But due to this bag's sizing, I can easily slot it to the side of my suitcase or travel bag no problem! This is such a big 'YESSS!' moment for me! I also love that this bag is super easy to clean! Due to the material on the outside not being soft; it's that 'grab a makeup wipe and give this a wipe' material. And yes, that is now the technical name for it! Meaning I don't mind where I chuck gently throw this.
All in all, a lovely addition the Zoella Beauty range, though, mind you, this is limited edition so if you do want this, make sure to grab your mitts on this pretty quick and I have no idea when this will be taken off the shelves!