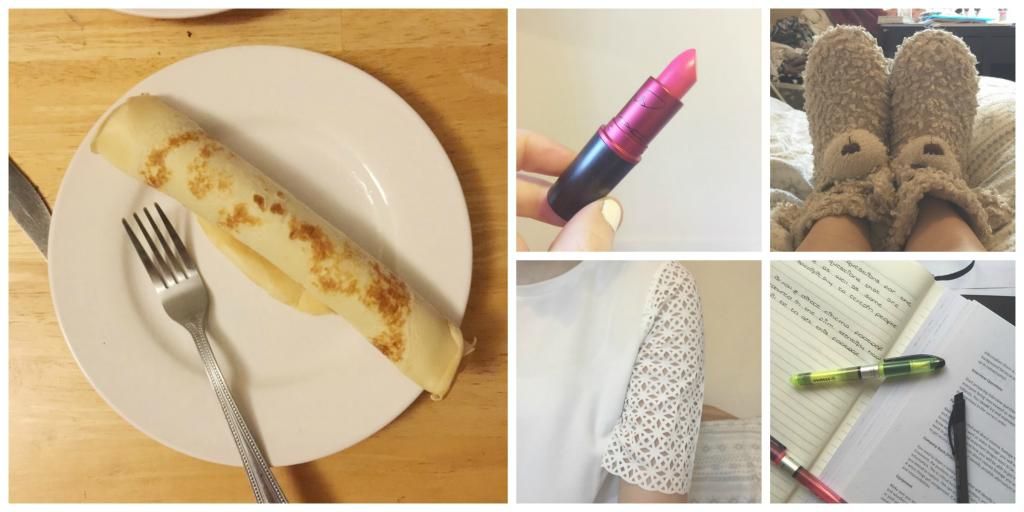 • Pancake Day!! • Picked up Miley's Viva Glam lipstick, it's so purdy! • Cosy Saturday in my comfy bear slippers • Some beautiful dealing on this New Look top! • Work… work… oh, and more work.
This week has been fairly uneventful. My healthy eating went completely off track this week and never really recovered. Which is such a shame because I was really doing so well last week. I was having porridge (or greek yogurt) in the morning, a salad or something for lunch and then maybe a stir-fry for dinner. Don't get me wrong, there was of course still improvements to be made but for someone who lives off of sugary cereals and supernoodles… this was incredible! But sadly this week it all went wrong. Cereal made an appearance back into the cupboard… as did a bottle of coke and even some chocolate buttons (and I don't even like chocolate?!) I've since realised, the pressure I put on myself to eat healthily was clearly too much because it was overwhelming and clearly, didn't work. I'm not on a diet, I don't want to lose weight but I do need a healthier diet and to implement some sort of exercise routine in my life. University does some great exercise classes, I just wish I had the guts to join!
Mission for next week? Slowly (but surely) bring back the healthy eating. I've realised that changing your whole diet in one week isn't going to work (sounds obvious, but ya know!) and don't get too disheartened if I occasionally have something 'not so great'. I've had a pretty crap diet probably since I left school so it's not going to change overnight. And I've realised this week that that's ok! It's all gooooood!
But, stepping away from the eating talk (kinda) Tuesday was pancake day! Last year Becca and I completely failed at pancakes (we even struggled getting the mixture right…) but this year, and don't ask how, it worked?! I don't know, but Becca bossed her mixture and I bossed the cooking of it. They were delicious and reminded me how much I love pancakes!
On Friday we went to the Science Museum in London. It was fun! The Science Museum is one of my favourites, it's super interesting and there is so much to do (I love the interactiveness of it)! Despite spending a full day there, we didn't manage to do everything! I really want to go back and go and do the IMAX cinema experience because it looked so fun but due to it being half term, it was so super busy! I didn't manage to snap any pictures but I did record a sneaky vlog… so you can look for that soon over on my
Youtube Channel!
I'm really,
really
enjoying vlogging at the moment so you can expect to see more whenever I do something exciting!
What has your week been like? 🙂