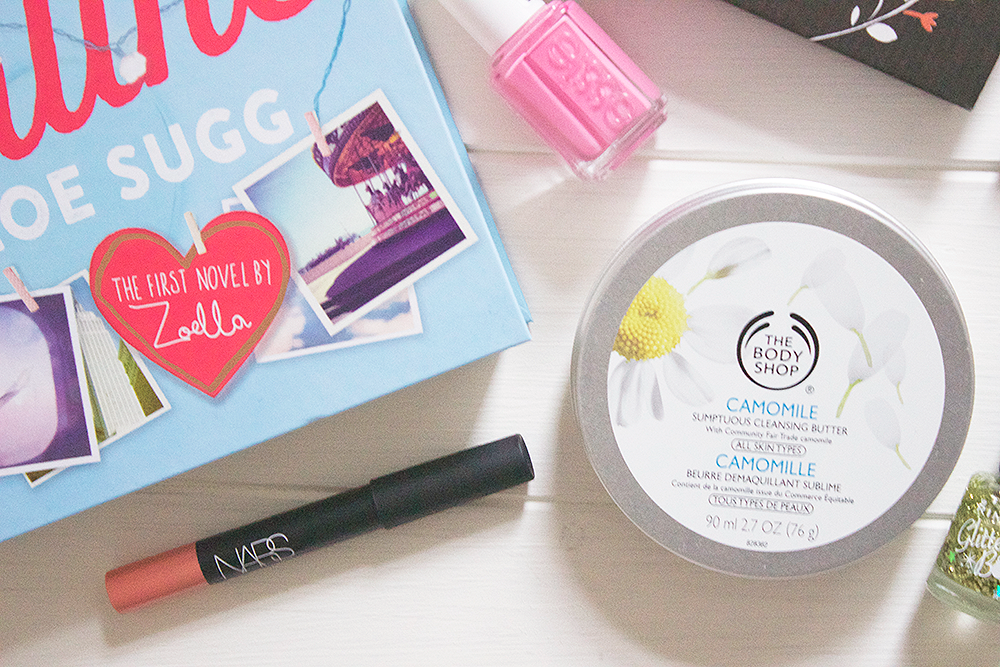 I am a shopaholic. I am also quite bad with money. Both of these qualities, I get lovingly from my mother. She's not as bad with money as I am, but she definitely likes to shop and that has definitely rubbed off on me. It literally pained me to cancel the Olly Murs tickets I almost brought the other day after it hit me that I really couldn't afford £100 to see him live. 🙁
But, that hasn't stopped me purchasing a few goodies over the last couple of weeks and like all good bloggers I thought it was absolutely necessary to share my new goodies with you!
The other day I popped into WHSmith, this is quite the rare occasion but this is where wandering around a shopping centre looking for Christmas presents inspiration ends up taking you! As soon as I walked into the shop I was greeted with a life-size Zoella (Zoe Sugg) cardboard cutout, instantly reminding me that her debut novel, Girl Online, (£12.99) was out! If you follow Zoella's wonderful internet life, I'm sure you've heard about this, it's been talked about quite heavily the past few weeks and curiosity got the better of me and it was already in my hands making it's way over to the till. I've only just started it and probably just under half way in but it's nice story, easy reading and features loveable characters which just keep you page turning. It's enjoyable and where I am right now, I can feel a twist coming on, adding much excitement to an already nice, enjoyable storyline! A massive congratulations Zoe!
Whilst in WHSmiths, I also picked up this Seasons 2015 diary. (£9.99) I've been on the hunt for the perfect 2015 diary that isn't going to break my bank and I couldn't help but fall in love with this one! The cover is so beautifully illustrated and just 'ma thanng' that I knew this was the 2015 diary for me. It's day by page, which isn't my favourite style but I guess I can add the days to-list as well to take up the page? I don't know, but it's beautiful and perfect for jotting down all my uni and non-uni related deadlines and plans.
The Nars Order was quite the splurge but I thought it was finally about time I actually made an order with them! I have been seeing the Virtual Domination Cheek Palette (£45.00) pop up on a few blogs here and there and decided this would be the palette which would allow me to try to the world famous Laguna Bronzer and some other equally famous blushers; Deep Throat, Miss Liberty Highlighting Blush, Sex Fantasy and Final Cut. The design on the front is so beautiful and so un-Nars like (I'm personally not a fan of the permanent packaging) there's nothing more I love than displaying this little beauty on my desk. This has been a firm favourite in my daily routine, all the blush colours are beautiful and Laguna isn't as scary as it seems in the pan!
Also, from the beauty that is Nars, I picked up one of the Velvet Matte Lip Pencils (£18.00) in Bolero which is a beautiful pink-peach shade, a firm favourite in my list of favourite lipstick shades. The texture of this isn't something I'm used to, but it's still a rather lovely colour and the pencil makes applying it such joy. I just wish this didn't transfer as much as it did and because of that it slightly puts me off buying Dragon Girl, a beautiful rich red colour.
I've heard so much about The Body Shop Camomile Cleanser (£12.00) but kept forgetting to pop in there and buy it. So the other day when present shopping I finally went in there and picked it up, the salesgirl (who was lovely by the way) told me how amazing it was (yes.. it's their job but you know) so it confirmed the purchase even more. I'm yet to try it (I hate swapping cleansers when I'm halfway through one) but will post a full review when I do!
Finally, I picked up two nail polishes. The first is a light pink from Essie (£7.99) called Lovie Dovie. I just feel that you can't go wrong with Essie polishes and their colour range is just incredible. And to team it up, I also picked up Rimmel's Glitter Bomb Top Coat (£3.99) in Bling Thing. A beautiful, sparkling gold topcoat, absolutely perfect for Christmas!
So there we have it, my bank balance is still getting over the shock but I have some lovely new goodies to play around with! What have you been buying recently? 🙂