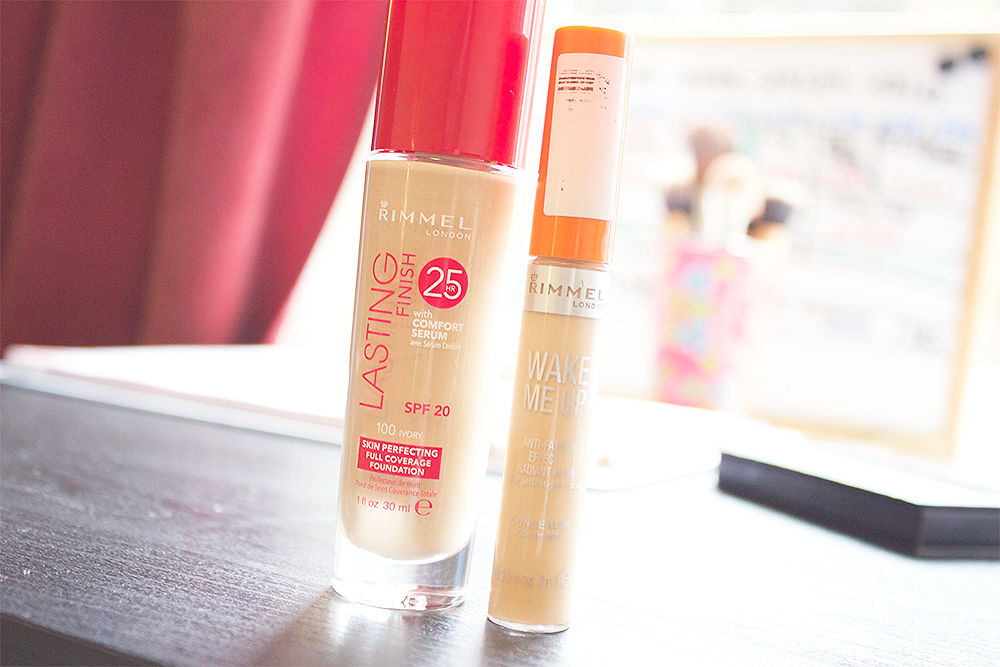 We all know the saying, "if your base is good… then everything else will be great." On second thoughts, I don't think thats the exact saying word for word but the general idea is there… if you catch my drift. I have mentioned loads of times before that I dislike buying foundation. Why? Just because it's such an important part of your makeup routine! It's the main event! I feel that even if your eyebrow game is on point or that smokey eye you spent 3 hours doing is perfectly smoked, if your base is rubbish, what does it even matter? I don't know, maybe I'm being too harsh on myself, but ever since the day I realised that orange and cakey foundation didn't look too great; I've been on the search for the near perfect base.
Say hello (not literally, you may look a little weird) to two Rimmel products I have been religiously applying to my face recently! The Rimmel Lasting Finish 25 hr with comfort serum foundation (£7.99) – ok now breathe – has been my go-to foundation every day for the last 3 or so weeks. I really, really like it and yes that is saying a lot. First things first, the pump is perfect. A real small amount is dispensed when you pump away meaning it's really hard to pump out too much foundation, I love it! I have so many foundations that come with a pump that pump out waaay too much product for one use and it just frustrates me and will occasionally put me off using it, but nu-uh, not this one. As well, the foundation isn't of a too runny consistency, which is such a plus point for me. It's super easy to blend in and gives off a lovely, natural dewy finish that can be matted down with powder if need be. The finish, is just so lovely, it's incredibly lightweight so you can't feel your whole face of makeup sitting on your skin but my favourite thing is the amazing dewy (but not shiny) look it gives you. I'd say this is medium coverage, which for me, is suitable for day to day, covers up most of my redness and just evens everything out but with a few more pumps you can have a much more high coverage look without any caki-ness. Funnily enough, I'm yet to find a reason to wear foundation 25 hours a day (I'm sure something will pop up…) but this lasts a good 7 hours for me, just as long as I need it to.
The concelear is the Rimmel Wake Me Up (£5.49) concealer and teams up perfectly with the foundation. It amazingly covers up my dark circles but needs to be teamed up with another concealer for really angry spots but I can deal with that. The orange packaging is cute, the doefoot applicator makes life (and early mornings) a little easier and the coverage is just what I want out of a concealer. Again, it's medium coverage which is absolutely fine as it does the job and I sometimes feel that higher coverage concealers can give off that 'cakey' look I'm not after.
Team this up with the foundation and you will get a lovely, natural, dewy finish. I literally cannot put these two products down, I have so much love for them!