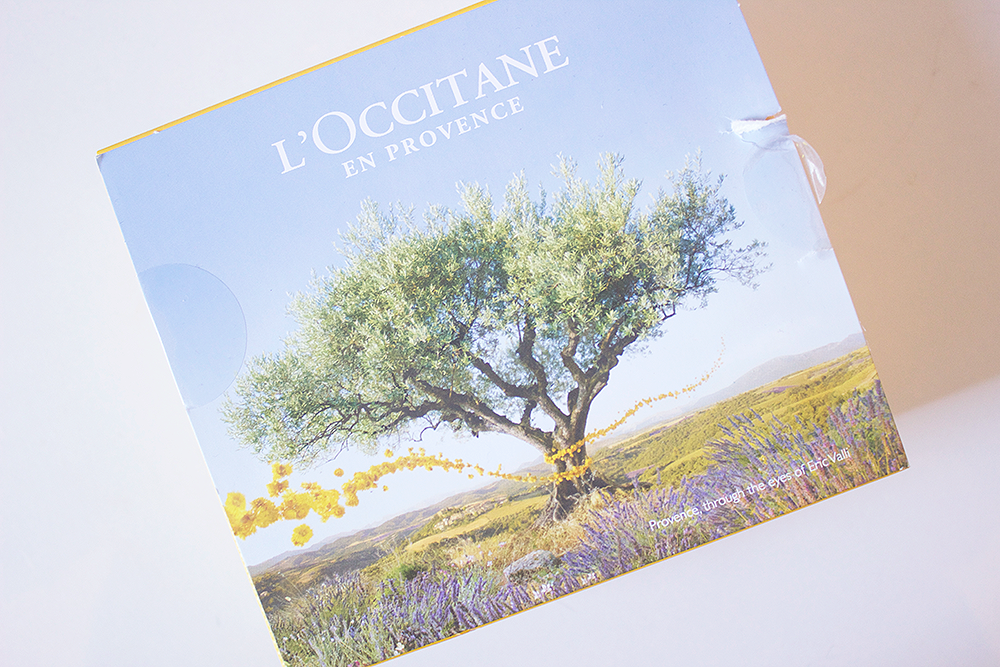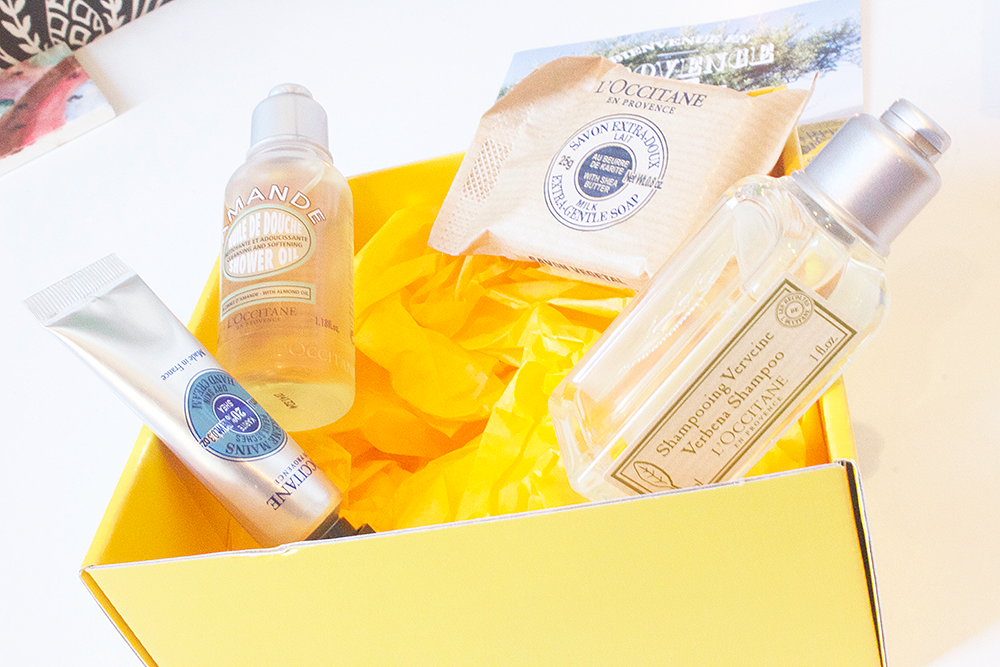 There's nothing like getting a email in your inbox that makes you very excited… and last week it was from L'Occitane who were offering existing members the chance to send someone (who wasn't a member) a free gift in order to introduce them to to the wonders of L'Occitane and Mama Lilly very kindly gifted me one! I'm not entirely new to the amazing world of L'occitane, I've heard so much about their amazing goodies they have to offer and have tried the infamous almond shower gel and tested some of their equally as good hand creams. Still, most of their products for me remained unheard of so I really thought this was such an amazing way to introduce new customers to the brand and to find out just what L'Occitane have to offer! With 4 free minis (perfecto for travelling) and even a voucher, you really do have a chance to try out something different from the brand to see which takes to your fancy and it's safe to say; this, in my opinion, is a really good way to get people to try some of their products.

Shampooing Verveine Verbena Shampoo
I've never really tried any shampoos or conditioners away from your typical drugstore lot so I'm really quite excited to give this a whirl. Depending how much shampoo you use I'd say you can maybe get 2-3 washes out of this which I feel is enough to give you (and your hair) a little taster of what this can do! It claims to cleanse the scalp – always good – without irritating it – even better and leaves a lovely shine to your hair. I've recently been using some harsher shampoos in order to remove some unwanted hair dye so my scalp needs something softer on it at the moment but obviously I still want my hair cleaned and cleansed so this really does sound quite exciting. It smells really fresh and soft and certainly not overpowering.
Retails at £15.00 for 250ml.


I already know how much I like this but was still super excited to see this in the pack; I feel it's one of L'Occitane's most famous and spoke about products and I can honestly say, it really does live up to it's claims! It has a luxurious feel to it and really does leave your body feeling all soft and lovely and of course, the slight almond scent is lovely but again, like most of their products, isn't overpowering. Just softly scented. Perfect!
Retails at £17.50 for 250ml.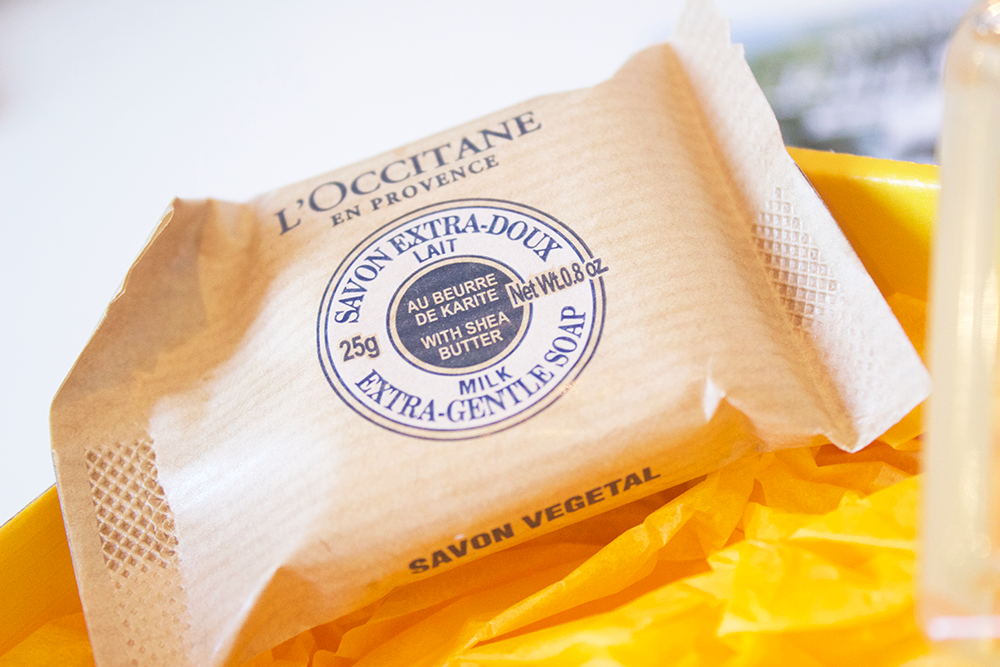 Milk Shea Butter Extra Gentle Soap
This might sound a tad strange, but something about traditional soap really, really doesn't sit well with me. Every since I was an icckle child I haven't liked these; I honesty can't tell you what it is but I just dislike them and they creep me out haha, I think it's just the feel of them that makes me feel all squirmy inside! So sadly, I'm going to have to give this one a miss – I can't even bring myself to touch it… but whilst I know I'm not going to use it, I love that it's meant to be extra gentle and the milk shea butter really does sound lovely and soothing.
Retails at £4.50 for 100g and £8.00 for 250g.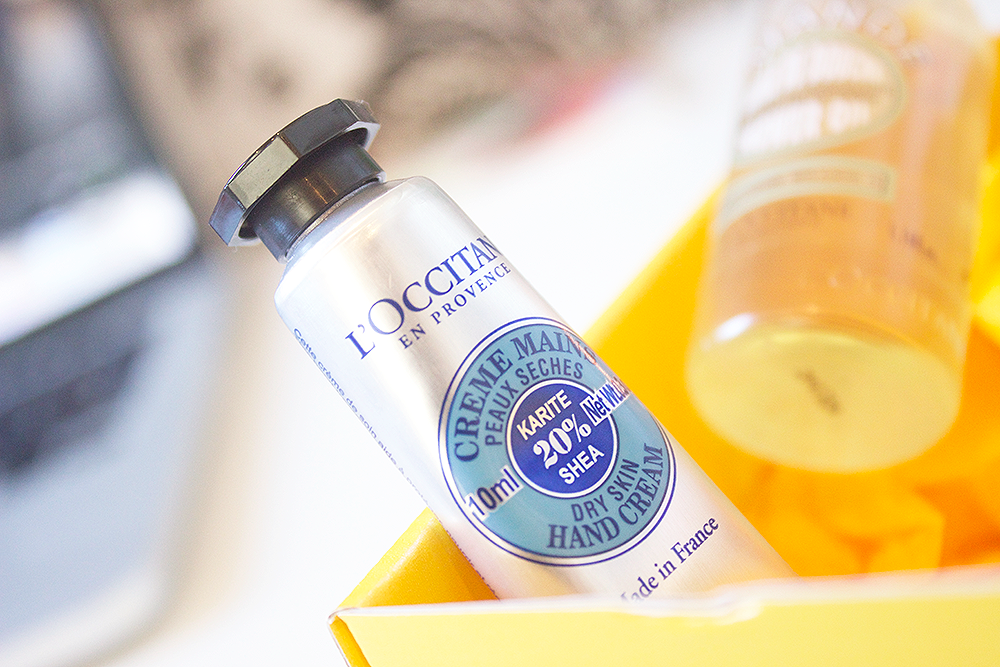 Shea Butter Hand Cream
This may look small but believe me when I say a little goes a long way with this. I do tend to forget to use hand cream but since this has been in my possession it's gone straight into my bag and I do tend to use it throughout the day when I feel my hands need a little TLC. This is really moisturising and makes my hands feel wonderful. But do you know what's best? It doesn't leave that awful greasy residue that some hand creams really do! My hands just feel moisturised afterwards and not wet and/or sticky. In my opinion, these really are worth a try, they do different scents and all sorts and are always available to test in store so it's definitely worth taking a pop down to your local L'Occitane store just to try one of these!
Retails at £8 for 30ml and £19.00 for 150ml.

In my opinion, considering I haven't paid a penny for this box there is nothing to complain about and even if I had paid money for it, this would be well worth it. Like mentioned, gives you a chance to try a few different products and I really want to pick up a full sized version of both the hand cream and shower gel once I'm done with these ones!
These are still available for a limited time only (till November 2nd) so if you know anyone who is a member, see if they are willing to give this to you or if you're already a member and have tried all these goodies, it's such a wonderful gift to treat some L'Occitane newbies with!