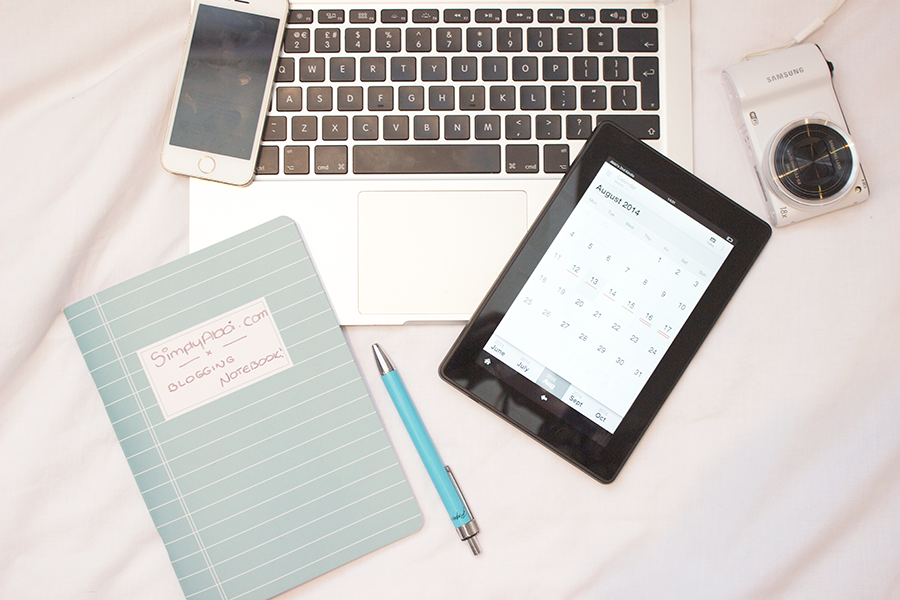 Blogging – sometimes we love it and other times we want to give up completely because we haven't posted in 3 weeks and no matter what setting or lighting you have your pictures are just not coming out right and you have no motivation and you wonder why you even bother and you just want to sit around watching Friends and eating chocolate until it comes out of your ears… phew! That might just be my version of events but everyone gets to a point with any hobby where your heart just isn't in to it to the full. Because that's a thing, blogging is just a hobby. Yes, I know it's a career for some; but that stemmed from a hobby, did it not?
It's not always easy to feel motivated and sometimes it is better to just take a break and let time heal your thoughts, but a good tip to keep you blogging life happy is getting and staying organised. Since I've organised my life blog better; I find I'm more willing to update and happier with the results because most of it is all planned and leaves all the stress behind. At the end of the day, people blog in different ways – some people write and write and schedule and schedule all in one day, some people have every social networking post scheduled for a month and others just blog and write freely when they wish – however you blog, it can still be organised whilst keeping it fun and enjoyable.
// Plan:
Some planning is good. Think back to when you were in school, didn't you find that your work always came out that bit better when you fully or at least planned some of it? I did. Those last minute essays handed in were not only completely dissatisfying, the whole process was stressful. I'm not saying you have to plan every inch of your blog; but some planning won't go a miss. For instance, maybe have an idea of some of the posts you want to post that month, what pictures you want to take for them and how it's going to be laid out. Blogging can be time consuming, there's no two ways about it but if you have an idea of what you're doing, all planned out, it takes away that stress of trying to think what to post about last minute.
// Write Things Down:
We've all been there, you're on the journey home from work or school, an exciting, original idea for a blog post pops into your head and you think to yourself, "ooh, must remember that later!" Of course, do you remember? Probably not. For times like this, and believe me, they do happen, I will go ahead and put them in my blogging notepad. Which is literally just a notepad with lots of different ideas in it, to-do lists, upcoming posts; everything. I like to keep things all in one place; which is why I think a blogging notebook is just the perfect idea. If you were to flick through mine; you would literally see pages after page of lists (I love a good list me), lists of what photo's need taking, what posts I really want to write about that upcoming month, any goals I have, etc etc. It's so useful, handy and keeps all the small musings of my mind save from being forgotten! And also a perfect excuse to pop into Paperchase and grab yourself a pretty new notepad, oh and a pen of course! And then a pencil case to put that pen into and then maybe another spare notepad… am I getting ahead of myself?!?
// Schedule/Do Things in Advance:
Not everyone likes to schedule things, I know I'm not the biggest fan of it. Sometimes I'm just better, opening my laptop, opening blogger and just writing to my hearts content, quickly reading through it and hitting publish. Boom. Done. Yay. Buuuuut, sometimes it make life just that little bit easier doing a few things in advance. For example, the other day, my blogpost had already gone live for the day, I had no need to post buuut the lighting was just perfect blog photography lightening. You know what I mean? So, I snapped away a few products I knew I wanted to blog about. When it came to actually writing about the products; I was actually so relived I didn't have to then take pictures. It was all done and dusted. Which meant I had an extra 15 odd minutes to browse Facebook and google pictures of fluffy cats stuck in boxes…
// Make sure you have your login details to hand:
If like me, you have several different accounts for everything (i.e I have a personal twitter and then my blog twitter, I also have personal email and then an account dedicated to blog related emails) you're going to have lots of different logins and passwords. Your best bet, so you don't forget, is to write or store all the details down. I actually wrote out a word document with all my blog related logins and password and it's kept nice and save on my laptop. There are also loads of apps which allow you to input all your different logins and save them, mSecure is a great iPhone app and does the trick nicely.
Obviously, how you blog is completely up to you so take this tips lightly. After all, these are just tips and ideas which work wonderfully for me. As always, helping other bloggers out is one of my favourite things to do; we all feel down in the dumps sometimes and we all want to keep up with our personal demands with blogging so to whoever reads this, I hope it has helped you in some way or another!
How do you keep organised when it comes to your blog?